Visit MEPS for steel price insights at the UK Metals Expo 
Visitors to MEPS International's stand at this week's UK Metals Expo will benefit from face-to-face steel price insights and free access to its latest market review publications.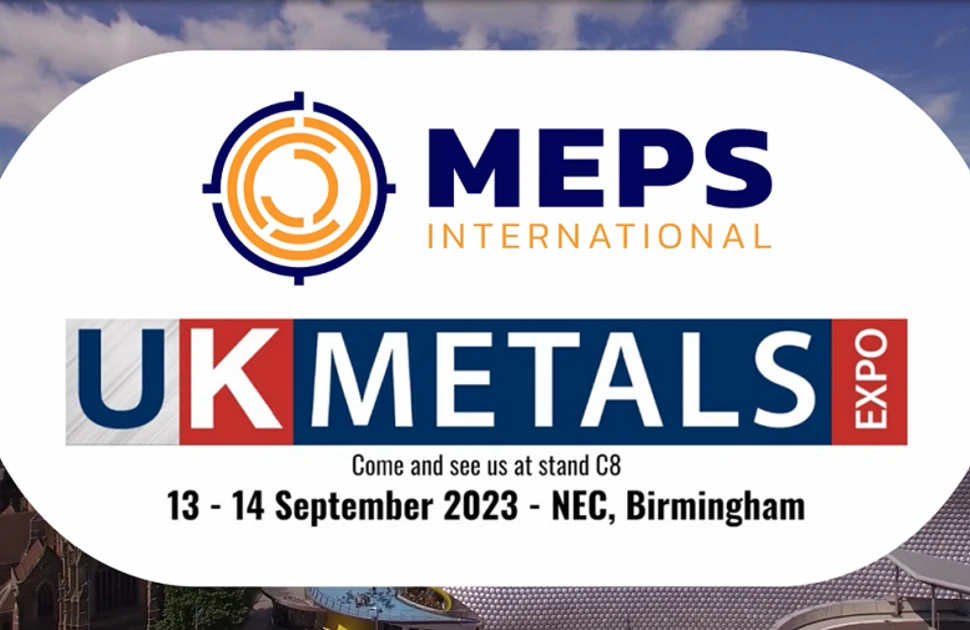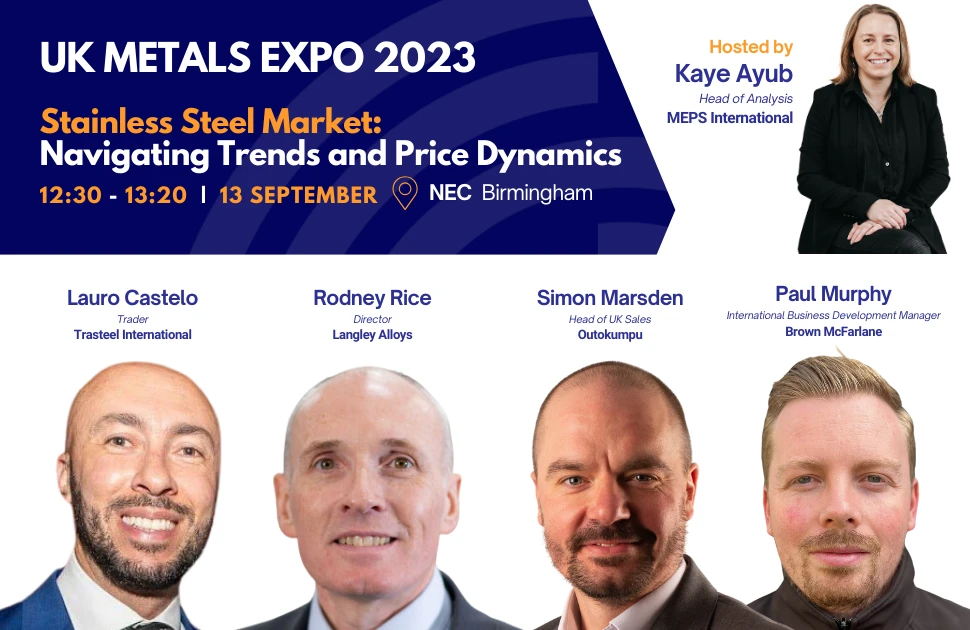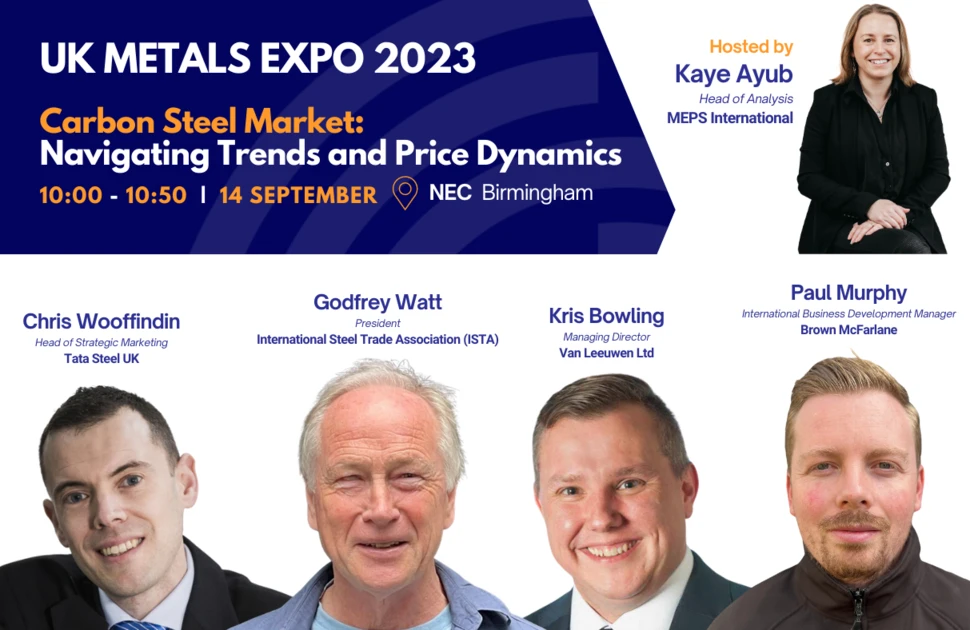 The independent steel market intelligence provider will occupy Stand C8 at the free two-day expo event which takes place at the NEC Birmingham on September 13/14.
Attendees can book a one-to-one consultation with a member of the MEPS team to gain insight into the global steel market trends and prices.
Picking up a MEPS flyer at Stand C8 will also give stand visitors instant access to the latest versions of the company's monthly Steel Market Review publications.
Steel sector panel debates
Completing the broad spectrum of insight served-up by MEPS at the UK Metals Expo, senior consultant Kaye Ayub will host debates on the carbon steel and stainless steel markets.
Ayub has assembled panels of senior steel industry figures to engage in the debates, which will take place at the event's Supply Chain, Trade and Policy theatre. They are among more than 50 presentations on the conference agenda.
"Thanks to the high calibre of panellists that have agreed to join the panel debate at the UK Metals Expo, there promises to be some really lively and insightful discussion at the UK Metals Expo", said Ayub.
"The discussions on carbon and stainless steel are a perfect way to explore the market's trends and underline the value of the services MEPS provides. Anyone with questions about the direction of the current market, or in need of more steel insight on an ongoing basis, should certainly pay us a visit on Stand C8."
Ayub's stainless steel debate will take place between 12.30pm and 13.20pm on Wednesday, September 13. The carbon steel debate is scheduled for 10am to 10.50am on Thursday, September 14.
All participants recently took part in an introductory Q&A interview with MEPS. Click on the below links to read their full panellist profile articles.
Joining her on stage for the stainless steel debate will be:
Simon Marsden, head of UK sales, Outokumpu
Rodney Rice, director, Langley Alloys
Paul Murphy, international business development manager, Brown McFarlane
Lauro Castelo, trader, Trasteel International (article to be published on Sept 12)
Participating in the Carbon Steel Market debate panel are:
Chris Woofindin, head of strategic marketing, Tata Steel UK
Kristian Bowling, director, Van Leeuwen Ltd
Paul Murphy, international business development manager, Brown McFarlane
Godfrey Watt, president, The International Steel Trade Association (ISTA).
Alongside its provision of steel market insight to UK Metal Expo visitors, MEPS will also be hosting a competition at Stand C8.
Premier League hospitality competition
Visitors will be invited to guess the weight of a piece of steel, donated by Dutch steel wholesaler and service centre HEGO (Stand C2), for the chance to win a Premier League football hospitality package with Sheffield United.
MEPS was founded in Sheffield – the UK's 'Steel City' – by Peter Fish and will celebrate its 45th anniversary in 2024.
Today its independently researched global steel prices and indices, and steel price forecasts are used by more than 50 Fortune Global 500 companies to gain a competitive advantage.
This year, the business strengthened its ties with the Steel City further still. It is now the ground sponsor of Sheffield FC, the world's oldest professional football club.
To book a one-to-one consultation with a member of the MEPS team at the UK Metals Expo, click here.
Those who wish to explore MEPS International's range of services online can find information about its Steel Market Reviews, steel price indices and forecasts at mepsinternational.com.
Source:
The MEPS European Steel Review is an informative, concise and easy-to-use monthly publication, offering unique professional insight into European carbon steel prices.
Go to product
Request a free publication