UK Metals Expo Q&A: Langley Alloys director Rodney Rice
Langley Alloys director Rodney Rice will be taking a break from a business which is booming on the back of demand from the aerospace, chemicals, gas and renewables to attend the UK Metals Expo.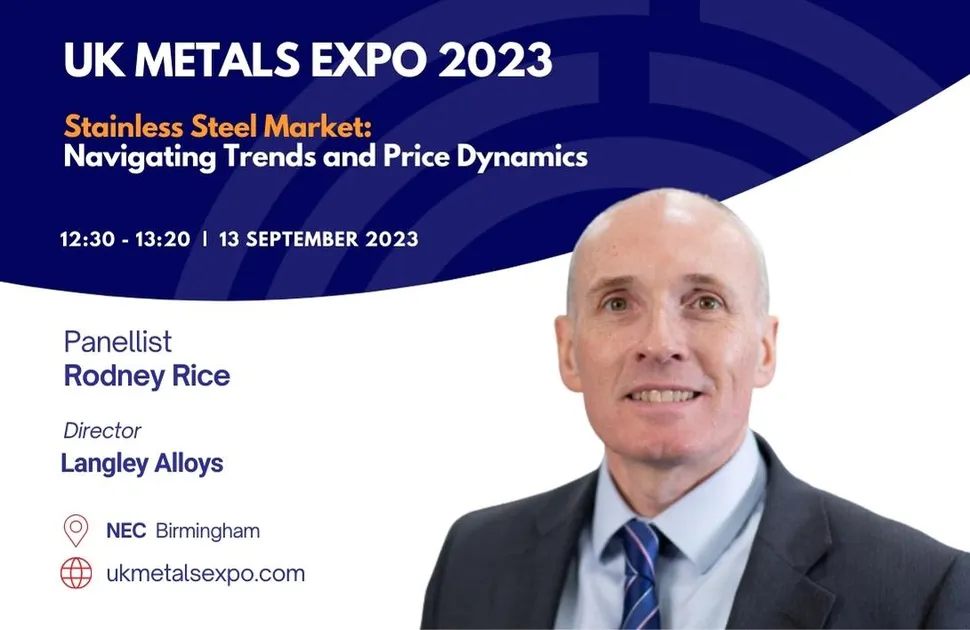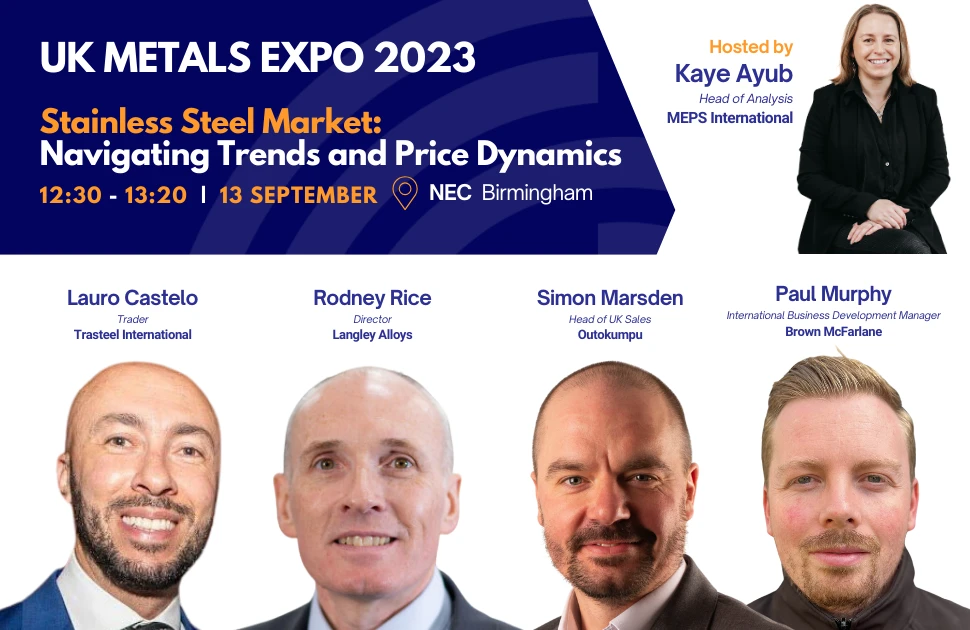 Rice is an expert panellist on the expo's September 13 'Stainless Steel Market: Exploring Trends and Price Dynamics' presentation which will be hosted by MEPS International senior consultant Kaye Ayub.
Speaking to MEPS International, he shared his experience of growing a niche business, and his hopes for next month's event at the NEC Birmingham. Read on for his full interview:
How did you start your career in the steel sector?
I signed up for quite a wide-reaching engineering degree at the University of Sheffield. A requirement was to be sponsored by an industrial company and I secured sponsorship from British Steel Port Talbot. I joined them as a trainee on graduation and spent the next 25 years working for them. I'm a metallurgist by qualification and I started at one end of the business, on the blast furnace, and moved onto the hot mill and then the cold mill. From there I had a year or so in the States, where we had a mini mill start-up. After I came back, I worked in customer service, product development and R&D and then marketing, working with Corus and Tata Steel.
How did you progress to the job you have today?
I've been with Langley Alloys for the past eight years. I really wanted a new challenge, and this was it. Going from large multi-national businesses to a niche, family-run operation, you find yourself involved in all areas of the business.
What is the most rewarding part of your job?
The variety of the role and the immediacy of the feedback is where the reward comes in at a smaller operation like Langley Alloys. Your contribution alters the course of the business. You feel every win and every loss. Thankfully, we've enjoyed a great degree of success and grown to 60 staff, adding around 20 roles in the past two years alone.
What is the biggest day-to-day challenge faced by your business?
With the sense of 'ownership' I have at Langley Alloys comes an immediate accountability. At the end of the day, I'm very aware of the results and the profitability as the stock comes in and goes out. While stainless steel is big for us, a large part of our business is in niche areas like Duplex and nickel alloys. In those areas – and from industries like oil and gas – demand is very strong. We put that down to the war in Ukraine and the priority now being placed on energy security. That's prompted a lot of new projects. Over the past 12 to 18 months the day-to-day challenge has been managing the sheer level of activity; sourcing stock, keeping on top of orders and managing the space we have. We feel like we're bursting at the seams.
Do you foresee a standout 'hot topic' for the UK Metals Expo?
I'm not entirely sure. For me, the interesting thing about the UK Metals Expo is that it brings together so many different segments of the market. I'm guessing there will be quite a broad swathe of perspectives. For me, the availability of nickel alloys is important. Anything used in aerospace, gas or chemicals is in strong demand. Lead times are currently 12 months plus and producers are either allocating capacity or declining new business. It's the opposite of 304 and 316 coil and small diameter bar, which are being used for consumer applications.
What do you hope to take away from the event?
Being able to meet with people – clients and competitors – in a nice, open setting will be good. We'll network hard and not take ourselves too seriously. We have a plan for enticing visitors onto our stand so, hopefully, it will prove a lot of fun.
Langley Alloys will be found on Stand D15 at the UK Metals Expo, which takes place at The NEC Birmingham on September 13 and 14.
Registration is now open for the free-to-attend expo which is billed as the only event of 2023 to bring the entire metals supply chain together with engineering and manufacturing.
MEPS International will be located on Stand C8. Attendees can book a free one-to-one consultation with a steel market analyst. Alternatively, they can drop in for an informal chat and the chance to win a hospitality package with Premier League Sheffield United.
Source:
The MEPS Stainless Steel Review is an invaluable monthly guide to international stainless steel prices and includes the latest global stainless steel industry analysis.
Go to product
Request a free publication