UK Metals Expo interview: Paul Murphy of Brown McFarlane
The steel industry's push to reduce CO2 emissions will be a hot topic at UK Metals Expo 2023, but attracting the sector's next generation of talent is also a key challenge.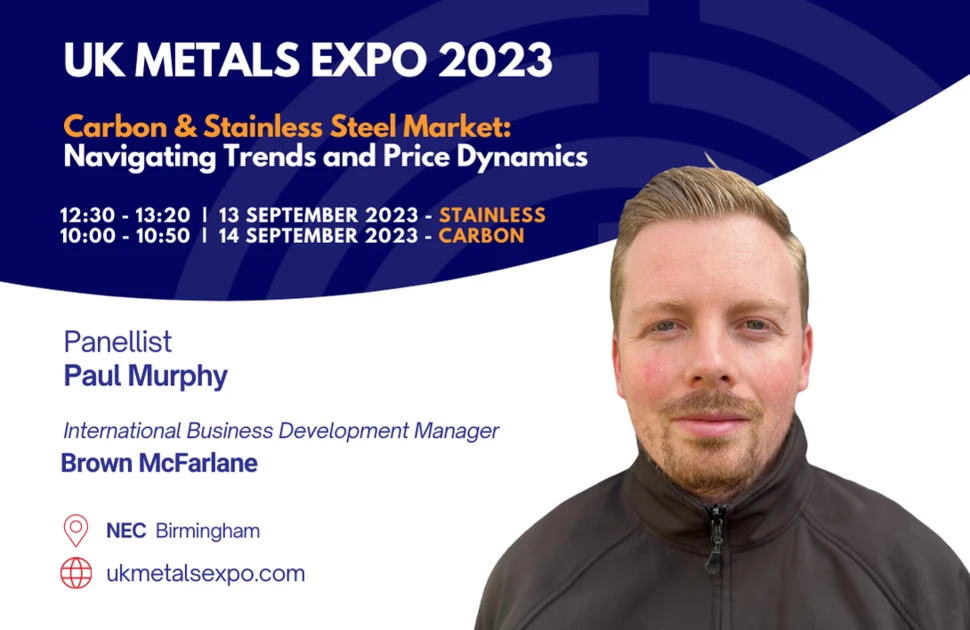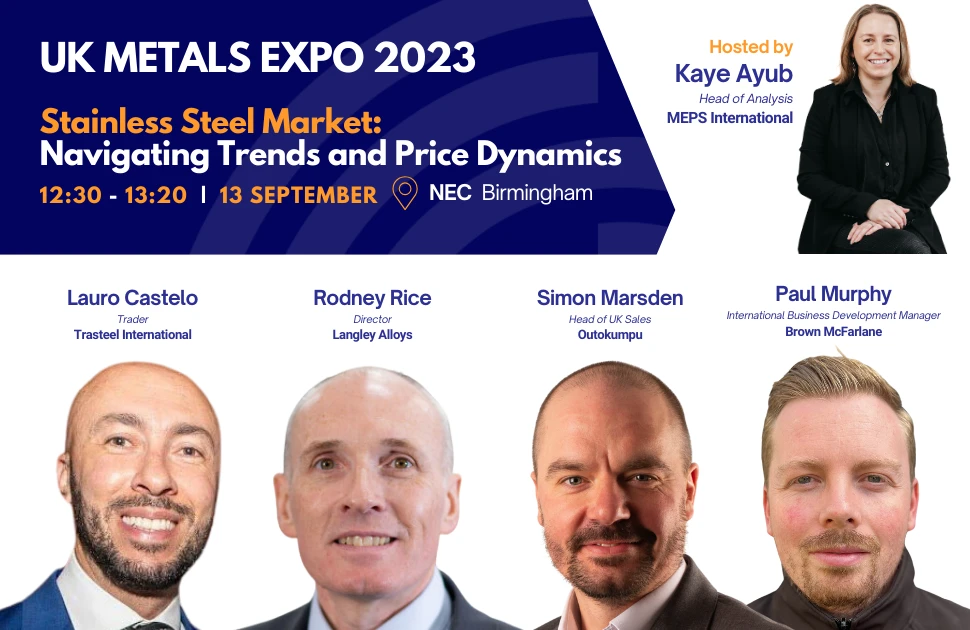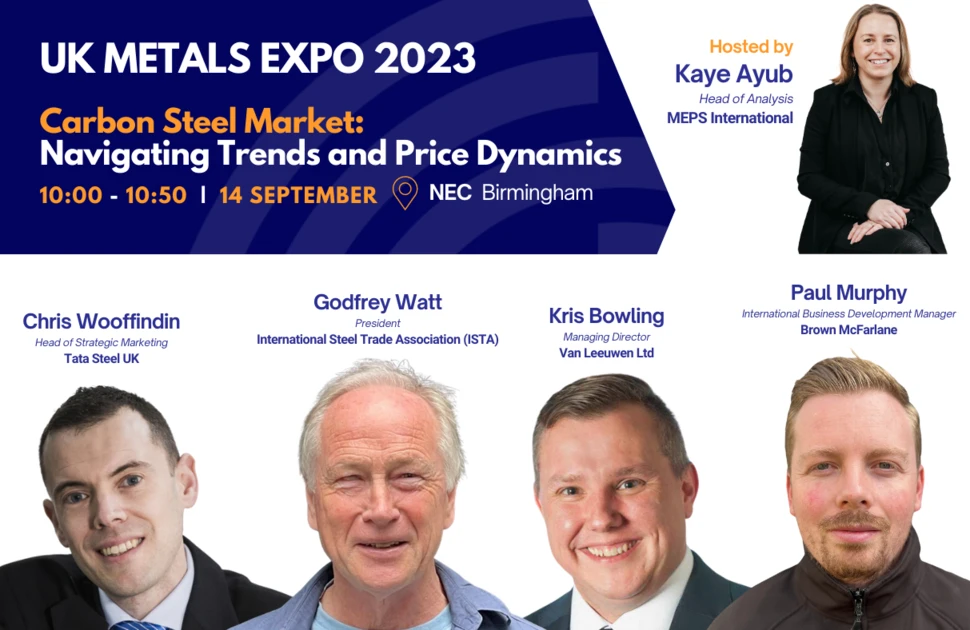 That is the view of Paul Murphy, international business development manager at steel plate distributors, processors and traders Brown McFarlane.
Murphy is part of two panels of steel industry experts assembled by MEPS International senior consultant Kaye Ayub to contribute to topical debates during the free-to-attend September 13/14 event at the NEC Birmingham.
Ahead of the presentations, which will explore pricing trends, challenges and opportunities in the stainless and carbon steel markets, Murphy sat down with MEPS for a quick Q&A session. Read on for his full interview:
How did you start your career in the steel sector?
While I was completing my business administration degree at Birmingham City University a friend made me aware of a marketing role with steel stockholder Masteel. I remained with the business for six years, stepping up when my boss left. After that point I became heavily involved in the business's online performance, exploring the influence of SEO and developing a new website. About two years before I left Masteel I started in a commercial role, selling into the Middle East and India. Masteel had closed an operation in Dubai and it was my role to carry on supporting that region from a UK base. Having moved from marketing to sales, after learning about the steel sector 'on the job', it was very much a case of sink or swim.
How did you progress to the job you have today?
An opportunity arose to sell stainless steel in the UK and Ireland with Brown McFarlane in 2017. Masteel was moving its UK headquarters and I was ready for a new challenge. Around 18 months after I started with Brown McFarlane my role developed to include some international markets. Today I work from home in Birmingham. COVID-19 was the prompt for home working, but I'm convinced it's the most effective way to work in my role.
What is the most rewarding part of your job?
I like the fact that 90 percent-plus of what we sell at Brown McFarlane we process in some way. When I joined, I had to go from a trader mindset to that of a stockholder. It's also been good to have some influence over the products we trade. We recently started stocking a new product line (SA387 GR 11 CL2) that I'd been keen on offering for some time and it's starting to gain real traction. That's been really good to see. Seeing the export business grow has also been rewarding. Brown McFarlane did have offices in Dubai, Singapore and Brazil but restructured just prior to my appointment to consolidate in the UK. The team was slimmed from a team of around 70 to just a handful of people. That side of the business is now a real growth area.
What is the biggest day-to-day challenge faced by your business?
I spoke with Brown McFarlane's sales director, Daniel Hickin, about this recently. As a business, the main challenge right now is recruitment. Factory floor and administration jobs are proving very hard to fill. Succession is something our managing director (Tony O'Reilly) is very passionate about, so we're keen to attract more people into the business and see them grow. We have apprentices and some past apprentices have progressed into quite significant roles within the business, but I think the steel industry is behind the curve in making itself a more attractive career path for bright, young minds.
Do you foresee a standout 'hot topic' for the UK Metals Expo?
I think there will be a lot of talk about CO2 emissions reductions and green steel. We're not a producer, but we're doing what we can to mitigate our energy usage. We recently replaced more than 70 percent of our roof with solar panels and we are also looking at new, more efficient machines. Already we've reduced the use of stainless plasma as we installed a 10KW laser cutting machine that is far more energy efficient. We're also keeping abreast of any future-proofing sustainability practices that we can implement as a business going forward and focusing on how we can reduce our carbon footprint further.
What do you hope to take away from the event?
The benefits of attending an event like the UK Metals Expo are immeasurable. Of course, we want to come away from the event having gained more business, but I recently took an order from someone who I met at an expo in 2019. You just don't know what success it might bring. For me, the main thing is informing potential customers about Brown McFarlane and its sheer breadth of stock and processing capabilities. We have a lot to offer, and we're growing – most recently acquiring a new precision engineering business – and we need to make people aware of that.
Registration is now open for the free-to-attend UK Metals Expo, which is billed as the only event of 2023 to bring the entire metals supply chain together with engineering and manufacturing.
Brown McFarlane will be located at Stand G8 and MEPS International on Stand C8.
Attendees can book a free one-to-one consultation with a MEPS steel market analyst or visit for an informal chat. Visitors to the MEPS stand will also have the chance to win a hospitality package with Premier League Sheffield United.
Source:
The MEPS European Steel Review is an informative, concise and easy-to-use monthly publication, offering unique professional insight into European carbon steel prices.
Go to product
Request a free publication