UK Metals Expo Q&A: Van Leeuwen MD Kris Bowling
Van Leeuwen Limited managing director Kris Bowling is approaching the UK Metals Expo as a fact-finding mission to gain greater insight into market sentiment in preparation for 2024 trading.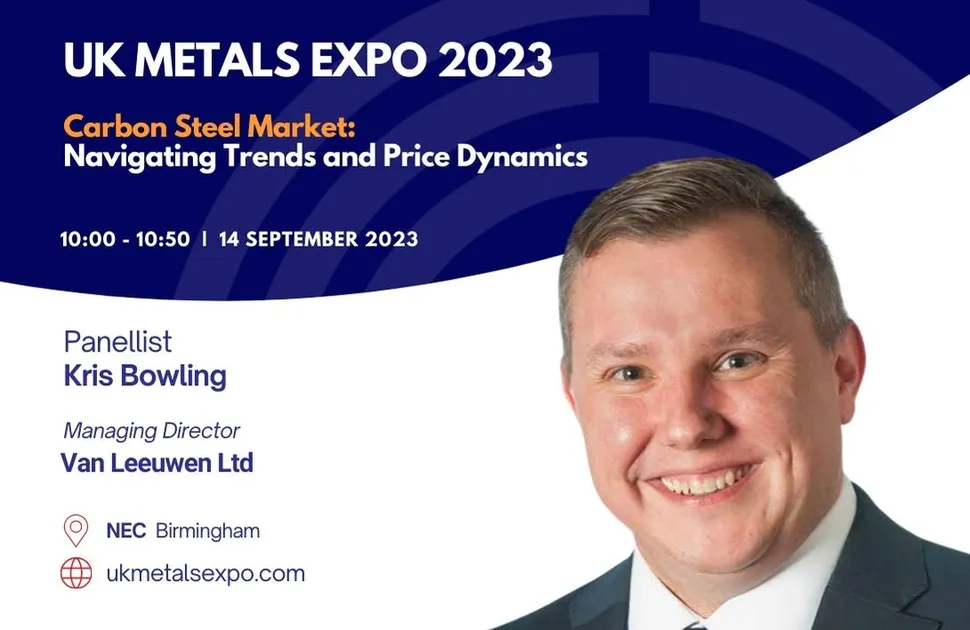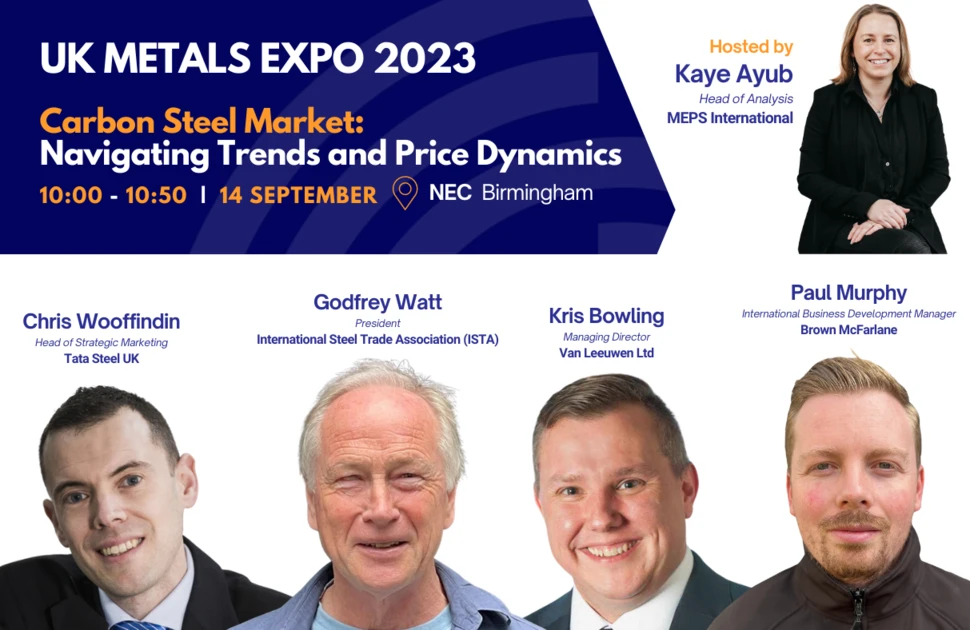 Kris was speaking to MEPS International for a five-minute Q&A ahead of his involvement in the Expo's 'Carbon Steel Market: Navigating Trends and Price Dynamics' panel debate on September 14.
The debate is one of two topical discussions – with another focusing on the stainless carbon steel market – set to be hosted by senior MEPS consultant Kaye Ayub over the course of the two-day NEC Birmingham event.
And Kris suggested that taking time to listen to some of the Expo's 50 seminar sessions could provide vital insight into what lies ahead for the steel sector. Read on for his full interview:
How did you start your career in the steel sector?
I'd been to college and, having joined the part-time Territorial Army, was considering a full-time career in the army when I got a job as a quality assurance assistant at Wheeler Tubes in Bury. Now, 28 years later, a few company takeovers and acquisitions later, I find myself with the same company but in a very different role.
How did you progress to the job you have today?
Not long after I started at Wheeler Tubes the quality chief inspector left. I put my name forward and was surprised to get the job and progress quite quickly. I found myself feeling quite ambitious. After I identified opportunities in the commercial side of the business I moved into a sales role. Wheeler only stocked carbon tubes at the time and when I negotiated a sale of some stainless steel hollow bar. It coincided (more by luck than by judgment) with the company's move in that direction. After that, I was seen as something of a stainless steel specialist. Shortly after this, I moved into an external selling role. I took a one-year gap from the business for a deployment with the Regular Army, as an infantry soldier in Iraq. I was a corporal and vehicle commander, providing protection for an airbase and teams that moved around the country. I think my time in Iraq helped put a lot of things into perspective and I believe I came back a much calmer person. When I returned to Van Leeuwen, in 2006, I committed to the business and quickly progressed through various commercial management roles. I became managing director of Van Leeuwen Ltd in 2016. It was difficult timing, with the oil and gas sectors faltering, and I had to oversee the downsizing of the business. Later, after the acquisition of Benteler Distribution International by the Van Leeuwen Pipe & Tube Group, I formed part of the team of directors that oversaw the merging of the two UK-based operating Companies. This move saw the overall business for Van Leeuwen in the UK almost double in size. At the end of 2022, I again became managing director of the newly formed larger company.
What is the most rewarding part of your job?
If you had asked me 10 years ago it would have been developing our people and five years prior to that it would have been converting an order. What I enjoy now is setting up structure in the business. That said, even with all the processes in place, I do like it when we operate outside that framework and do something different to provide a solution for a customer. We might acquire a machine or partner with a supplier or sister company to come up with a solution. You certainly need the processes in place but having freedom, flexibility and entrepreneurship within a business is a great thing and I think we have that.
What is the biggest day-to-day challenge faced by your business?
Inventory management, especially with the supply chain challenges we have had in recent years and the swings in demand. Credit management is also becoming a much more difficult subject. With steel prices almost doubling over recent years, the credit insurance companies have been very nervous about the sectors that we sell into. They haven't increased their credit limits despite the value of materials having doubled. Luckily, we have in-depth discussions with our credit providers. Ultimately, we have to make informed local decisions and manage our business risks accordingly.
Do you foresee a standout 'hot topic' for the UK Metals Expo?
I think the big questions surround demand and price. We're seeing a bit of a mixed picture across the business sectors and product groups. I expect that to be a key point of discussion, but then it always is, regardless of the state of the market.
What do you hope to take away from the event?
For the last 12 to 18 months we've really looked at improving our brand awareness and I think this gives us another opportunity to do that. This is the second time we have been to the UK Metals Expo and we're occupying a great location, on Stand E10, right next to the entrance. I'm hopeful of meeting up with a number of old friends and new contacts. I'll also be taking in some of the presentations. Last year I found that really useful. Ultimately, I'm hopeful of getting a feel of the market sentiment as it's that time when I'm being asked to give an opinion on our expectations for next year.
Registration is now open for the free-to-attend UK Metals Expo, which is billed as the only event of 2023 to bring the entire metals supply chain together with engineering and manufacturing.
MEPS International will be located on Stand C8. Attendees can book a free one-to-one consultation with a steel market analyst. Alternatively, they can drop in for an informal chat and the chance to win a hospitality package with Premier League Sheffield United.
Source:
The MEPS European Steel Review is an informative, concise and easy-to-use monthly publication, offering unique professional insight into European carbon steel prices.
Go to product
Request a free publication