UK Metals Expo interview: ISTA president Godfrey Watt
International Steel Trade Association (ISTA) president Godfrey Watt has advised industry colleagues to "break away from Teams meetings" and get to know the sector ahead of the UK Metals Expo.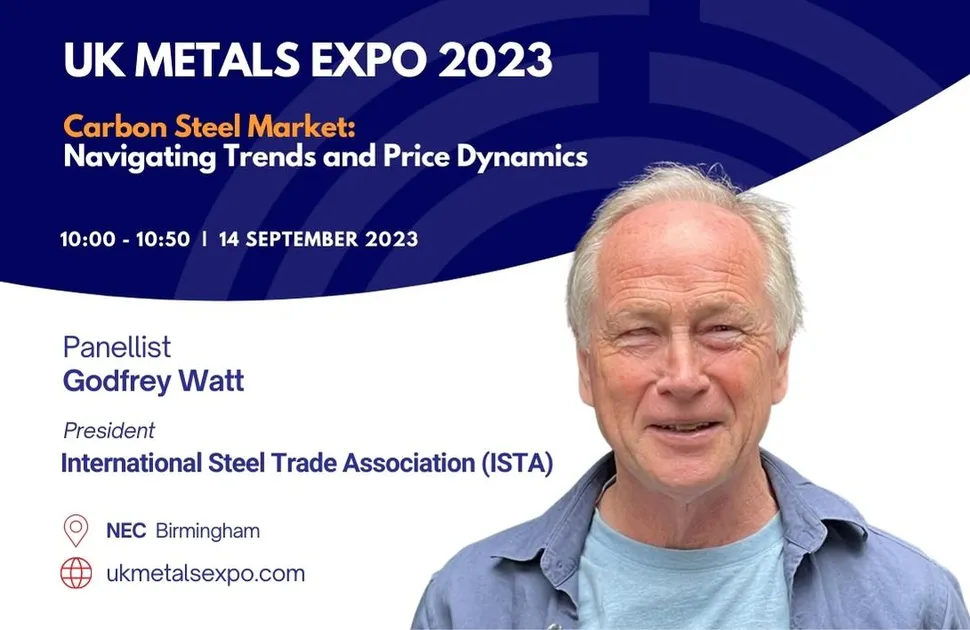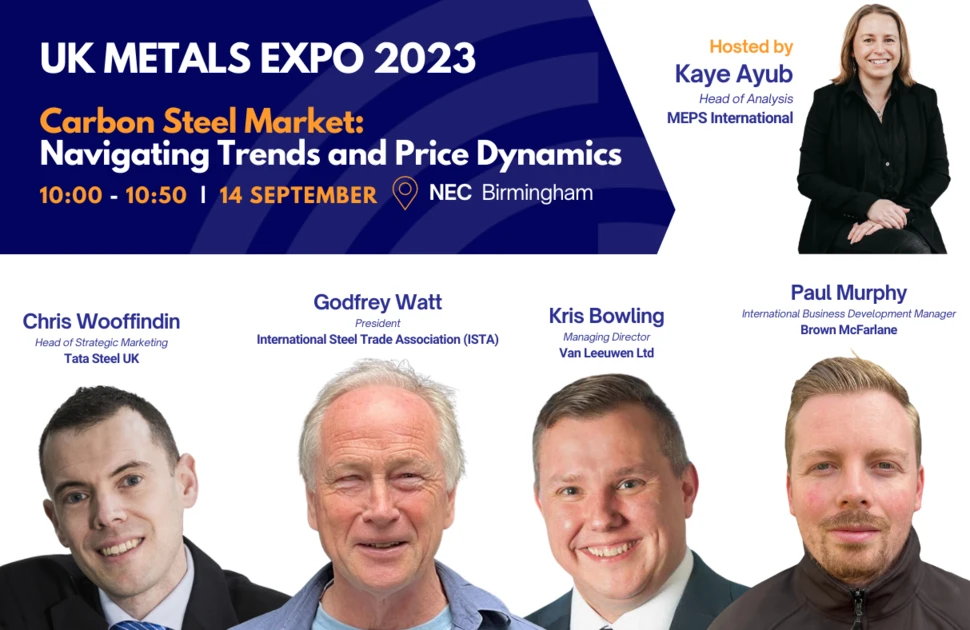 Watt is an expert panellist on the event's 'Carbon Steel Market: Navigating Trends and Price Dynamics' presentation, which will be hosted by MEPS International senior consultant Kaye Ayub on September 14.
And, speaking to MEPS International for an introductory Q&A with just over two weeks to go until his attendance at the two-day NEC Birmingham expo, Watt said he was most looking forward to its networking opportunities. Read on for his full interview:
How did you start your career in the steel sector?
When I left school all I really knew was that I wanted to travel – something I'd not done in my youth – and that international trade was something I really wanted to explore. Where I grew up in Tunbridge Wells there wasn't much import and export opportunity, so I travelled to London to scour the jobs there. I had a successful interview with a textiles and steel trader called Adam and Harvey. The job brought an opportunity to work in shipping and, later, on the trading side. As the business had a lot of stockholders in Africa, I eventually got my opportunity to travel. Whether you'd call it a career choice or not, that's how I got started in the steel industry.
How did you progress to the job you have today?
I joined Kromat Trading in 1990 and I have been a director since 1992. Prior to that I was with Samac (Steel Supplies), which was acquired by Stemcor, and, prior to that, GKN.
What is the most rewarding part of your job?
Throughout my career what I've enjoyed most is visiting various steelworks and traders and getting to know the people, the product and the production process. If I had one piece of advice for anyone starting out in the sector it would be to take time to break away from Teams meetings, get out from behind the computer and really get to know the sector first-hand. Whether you're in research or sales or whatever, understand the entire supply chain. Getting to know the sector, and the challenges faced by the people within it, will really help you succeed. Today, I'm not really involved in the day-to-day trading of the business, but I'm in a position where I can pass on knowledge and spare the time to concentrate on some of the over-arching issues.
What is the biggest day-to-day challenge faced by your business?
Within Kromat my aim is to have people focussed on the trading, so I try and keep on top of regulatory matters. Some of the biggest challenges today are related to my role as president of ISTA. It's not just about putting on a black tie for a dinner, it's about how we are dealing with the government with regard to steel quotas and its approach to carbon emissions and safeguard measures. While we have the Trade Remedies Authority (TRA), for example, it is clear that it is the UK's Minister for International Trade that is calling the shots, so it is very much political rather than commercial. It's not all straightforward, but it certainly keeps one's brain alive.
Do you foresee a standout 'hot topic' for the UK Metals Expo?
I think the safeguarding issues and quotas are likely to be the big issue people are talking about. The Carbon Border Adjustment Mechanism (CBAM) is bound to be the other thing. How are UK steelworks going to fare? Without significant funding from government or themselves will they fall foul of that and end up paying the price?
What do you hope to take away from the event?
I'd like to think that it can bring a little more exposure to ISTA and the work the organisation does. We're an organisation that supports and represents the entire steel industry and its full supply chain, as can be seen from its membership, and lobbies the government on key issues. Drawing attention to that is an important task.
The UK Metals Expo is billed as the only event of 2023 to bring the entire metals supply chain together with engineering and manufacturing.
Registration is now open for the free-to-attend expo which takes place at The NEC Birmingham on September 13 and 14.
MEPS International will be located on Stand C8. Attendees can book a free one-to-one consultation with a steel market analyst or simply drop in for an informal chat and the chance to win a hospitality package with Premier League Sheffield United.
Source:
The MEPS European Steel Review is an informative, concise and easy-to-use monthly publication, offering unique professional insight into European carbon steel prices.
Go to product
Request a free publication