UK Metals Expo Q&A: Tata Steel UK's Chris Wooffindin
Tata Steel UK head of strategic marketing Chris Wooffindin believes significant volatility will remain a defining feature of the sector following a series of "black swan events" in recent years.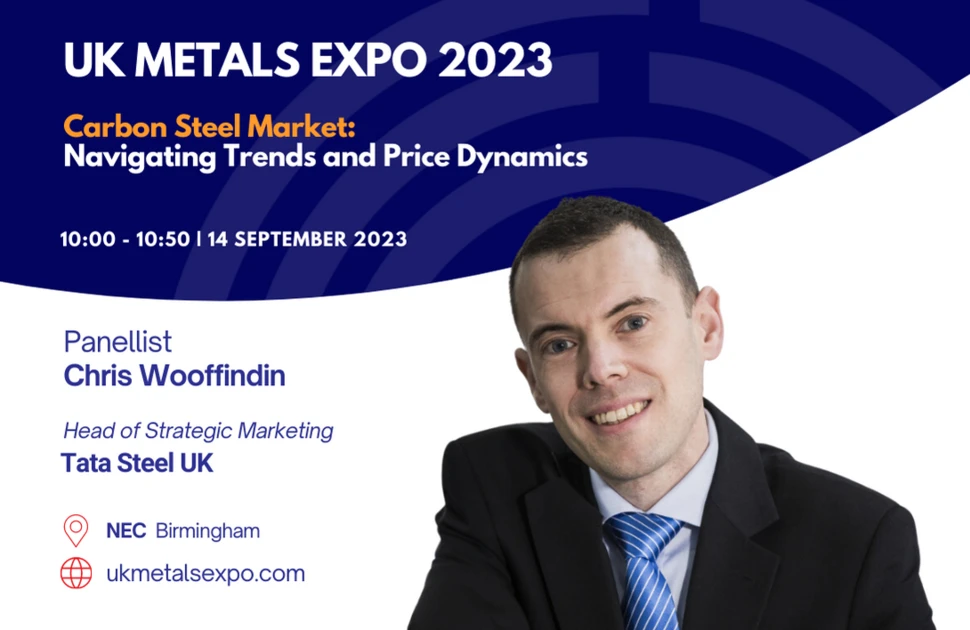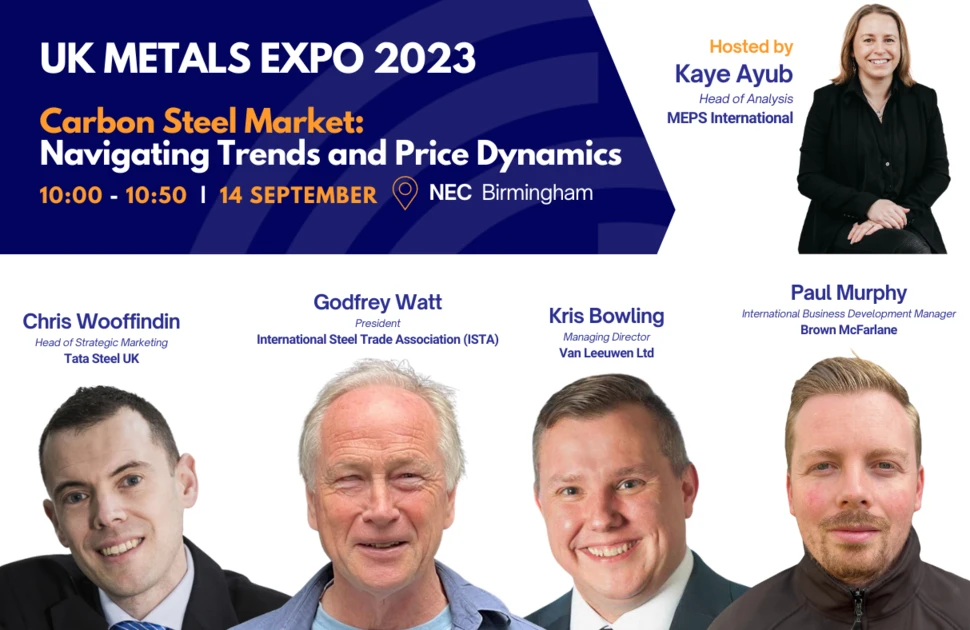 Wooffindin spoke to MEPS International for a five-minute Q&A ahead of his involvement in the UK Metals Expo's 'Carbon Steel Market: Navigating Trends and Price Dynamics' panel debate next Wednesday.
Senior MEPS consultant Kaye Ayub will lead debates on the stainless and carbon steel markets at the free two-day expo, which takes place at the NEC Birmingham on September 13/14.
And, according to Wooffindin, there will be no shortage of compelling subjects to address. Read on for his full interview:
How did you start your career in the steel sector?
Having graduated from my first degree in Mechanical Engineering at Brunel University London, where I was sponsored by an automotive tier, I joined British Steel R&D in early 1997 as a research engineer tasked to develop tubular steel solutions for automotive application.
How did you progress to the job you have today?
In response to the growing need to deploy new steels into the automotive industry, British Steel created a new team called the Automotive Engineering Group that was based in Coventry. Having had automotive experience, I joined the team in 1998 and stayed for around 10 years in various roles, starting as a project engineer and finishing my time there as a cluster leader. Much of my time was spent traveling to the Netherlands to support the Dutch side of the business (now called Corus). Following the purchase of Corus by Tata Steel, the business model changed. This allowed me to transition into business development and marketing roles, including the responsibility for pricing at Tata Steel Europe. I now have two separate roles at Tata Steel UK. As head of strategic marketing, I am responsible for an experienced team that defines the market strategies, including price, for the business. I also have the honour of leading the Executive Office for Tata Steel UK's chief commercial officer, Mr Anil Jhanji.
What is the most rewarding part of your job?
There are two clear rewarding elements of my daily work. The first is that both roles require me to get deeply involved in a very wide and diverse range of activities on a daily basis. No day is the same, and no day is a dull day. Secondly, I also need to engage with all parts of the UK business, as well as colleagues at our sister Tata Steel Netherlands business and our Tata Steel Limited parent, at every level. I work with very committed, loyal, experienced and capable colleagues. Meeting challenging and tight deadlines is only possible with the help and engagement of these talented colleagues.
What is the biggest day-to-day challenge faced by your business?
Without doubt, navigating through the volatile and uncertain market we continue to face. We have seen a string of so-called 'black swan' events in recent years that have impacted the steel market: WLTP testing impacting automotive demand; the COVID-19 pandemic; supply chain impacts; the Russian invasion of Ukraine, leading to a trade shock; then the energy crisis. Today we face inflationary impacts leading to a cost-of-living crisis and economic tailwinds which are now impacting real demand in addition to apparent demand. On the horizon there is further uncertainty over China's economic recovery, the EU-US trade deal, CBAM, Russia's next move and Government elections. Whilst the steel market has not been calm for around two decades, it is clear that significant volatility is expected to be an ongoing theme that will continue to challenge us and our customers.
Do you foresee a standout 'hot topic' for the UK Metals Expo?
Decarbonisation. We fully understand that, as a steel producer, we have a clear and important role to play in decarbonisation, not only from a steel-making aspect but also in supporting our markets and customers to achieve their roadmaps to net zero.
What do you hope to take away from the event?
The topics that are planned to be discussed during the event look wide-ranging and interesting. However, I am very much looking forward to the topics that address how we, as a UK supply chain, are working together to achieve net zero.
Tata Steel representatives will be found at the UK Metals Expo's networking area. The global steel producer is also sponsoring one of four seminar theatres which will host over 50 presentations and debates over the course of the two-day event.
Registration is now open for the free-to-attend UK Metals Expo, which is billed as the only event of 2023 to bring the entire metals supply chain together with engineering and manufacturing.
MEPS International will be located on Stand C8. Attendees can book a free one-to-one consultation with a steel market analyst. Alternatively, they can drop in for an informal chat and the chance to win a hospitality package with Premier League Sheffield United.
Source:
The MEPS European Steel Review is an informative, concise and easy-to-use monthly publication, offering unique professional insight into European carbon steel prices.
Go to product
Request a free publication