UK Metals Expo Q&A: Trasteel International trader Lauro Castelo
The economic recovery of UK and Europe will top the agenda at this week's UK Metals Expo, according to Trasteel stainless steel trader Lauro Castelo.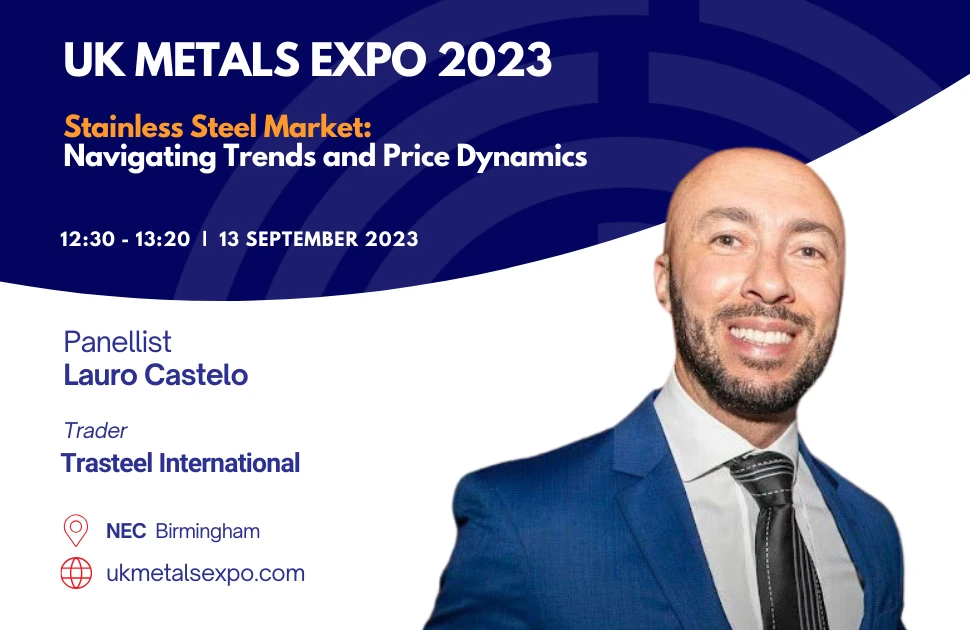 As the sector emerged from a subdued summer trading period, Castelo reflected that the pace with which the region can return to growth will be pivotal to the prosperity of the sector.
MEPS International spoke to him for a five-minute profile Q&A ahead of his involvement in the UK Metals Expo's 'Stainless Steel Market: Exploring Trends and Price Dynamics' panel debate, which will be hosted by MEPS senior consultant Kaye Ayub on September 13.
On day two of the free-to-attend, two-day expo at the NEC Birmingham, Ayub will also lead a debate on the carbon steel market.
Read on for Castelo's full panellist profile interview:
How did you start your career in the steel sector?
When I was 17 (back in 1999), my mother wanted me to find a job. Luckily, she knew a person in human resources, who knew the person who would become my first boss at Acesita in Brazil (today's Aperam South America, the only integrated stainless flats mill in Latin America). I had an interview and they liked me. Initially my role was setting up meeting rooms and delivering correspondences, but I was already breathing stainless steel every day. At first, I wanted to be a metallurgical or materials engineer (my dear friend Julio di Cunto will remember that), but I was ultimately more attracted to foreign trade as I was working in the same office as Acesita's export team. I started preparing myself to apply for a role by studying English and foreign trade at the university. After my graduation, I joined the export team as a junior trader. Before that, I spent good years at the export administration as well – working as I studied. By the way, I would like to thank all the people and friends who believed in me throughout those years. There were many, thankfully.
How did you progress to the job you have today?
In 2010, I left Acesita and joined Duferco in Brazil. One year later I was invited to join the headquarters of the company in Lugano to develop the stainless steel business. By January 2012, I moved from Brazil to Switzerland. Since then, we have managed to diversify the business by selling stainless steel products to several countries and expanded the desk in size in a strong way. Then, after 13 years working in the group, I decided to leave in search of a new challenge. Joined Trasteel International, which is a major trading company in Switzerland, in March 2023. The main objective was to build a strong, long-lasting and diversified stainless steel trading desk from the ground up, where we put quality at the center of our activities. We are now building a strong team of experienced stainless steel professionals, and we are all motivated by what we see as a very exciting challenge. Despite existing for just six months (as a stainless trading desk in Trasteel), we are already present in five different countries, both inside and outside Europe.
What is the most rewarding part of your job?
Developing new markets, and in the case of our challenge in Trasteel, developing a whole stainless steel desk. Also, as a trader, that feeling of "smelling" an opportunity to book an order, and actually doing it, is also very rewarding. Along with that, comes our satisfaction in seeing both ends of the trading spectrum (customers and producers) satisfied with our services.
What is the biggest day-to-day challenge faced by your business?
As far as our activity in the foreign trade of stainless products goes, my biggest preoccupation is the constant changes in import rules and regulations, especially in Europe. At Trasteel, we always look for diversification of our business: from where we buy, where we sell and what products we trade. We need to have a diverse sales network in as many markets as possible, in order to navigate the changes in import regulations that we might bump into. We also believe that those regulations and changes, such as CBAM for example, will present opportunities to structured and strong trading companies like Trasteel.
Do you foresee a standout 'hot topic' for the UK Metals Expo?
I think the hot topic will be the political and economic situation in the UK and Europe. The economy isn't thriving at the moment, and the sector needs a strong footing to help improve demand, and consequently prices. Green steel-related subjects will be high on the agenda too. Decarbonisation is a huge challenge for the sector.
What do you hope to take away from the event?
Firstly, I'm determined to contribute to the discussion on the stainless steel debate panel that I've been invited to join. That's our first objective. It's a real privilege to be part of that panel at UK Metals Expo and I'm really grateful for the opportunity. Our second objective is to promote Trasteel International's brand and services at a major steel business forum. It is important that customers and suppliers get to know the company, and its potential, even more so that we can build strong partnerships from there.
Registration is now open for the free-to-attend UK Metals Expo, which is billed as the only event of 2023 to bring the entire metals supply chain together with engineering and manufacturing.
MEPS International will be located on Stand C8. Attendees can book a free one-to-one consultation with a steel market analyst. Alternatively, they can drop in for an informal chat and the chance to win a hospitality package with Premier League Sheffield United.
Source:
The MEPS Stainless Steel Review is an invaluable monthly guide to international stainless steel prices and includes the latest global stainless steel industry analysis.
Go to product
Request a free publication