Steelmakers 'in the dark' over UK decarbonisation plan
Fears that the steel industry remains "in the dark" about the UK's decarbonisation strategy have been voiced days after steelworkers marched to the Houses of Parliament to raise concerns about the sector's future.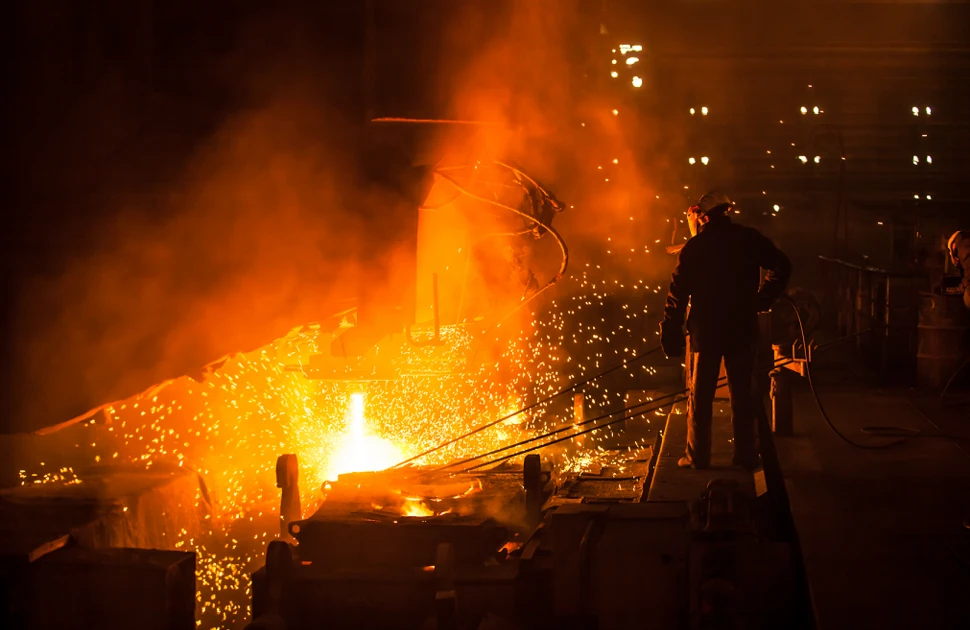 Industry body UK Steel has called for the introduction of a robust Carbon Border Adjustment Mechanism (CBAM) after the UK government published an update to the UK Emissions Trading Scheme (UK ETS) this week.
In June, UK Steel suggested almost 23 million tonnes of non-EU steel could flood into the UK if the government failed to introduce its own CBAM tariff at the same time as the EU. The introduction of the EU's CBAM will get underway on October 1.
The updated ETS places a tighter limit on industrial, power and aviation emissions while maintaining the existing free carbon emissions allowances until 2026.
But UK Steel director general Gareth Stace said a UK CBAM, packaged alongside a long-term capital expenditure strategy to give UK-based steelmakers the financial support to decarbonise, was now required.
Stace said: "Without a hawk-like vision, a carefully planned capital expenditure and a powerful decarbonisation strategy, we could simply close down steel plants and de-industrialise the nation.
"There are huge question marks over if government really wants to sustain steel, the backbone of British manufacturing, or just leave it to shrink and rely on other nations' supply."
Steel sector decline
The UK's steel production has declined dramatically in the past decade.
In 2014, it produced 12.03 million tonnes (Mt) of crude steel. This dropped below 8Mt in 2016 and has since failed to recover. In 2022, the UK produced 5.96Mt of crude steel, its lowest output since World War Two.
Annual steel consumption in the UK is around 9Mt, according to UK Steel. As a result, it would be at risk of severe oversupply if the EU's CBAM rules trigger a diversion of steel products to its shores.
Against a backdrop of declining production, the UK government has targeted a 95 percent emission reduction from steelmaking by 2050. Meanwhile, its Climate Change Committee has recommended emissions from ore-based steelmaking be near zero by 2035.
UK Steel said a lack of detail, strategy and financial long-term leadership has left steelmakers in the dark, however.
Last week steelworkers from Tata Steel, British Steel, Liberty Steel, Celsa Steel, Marcegaglia and Sheffield Forgemasters marched on Parliament to highlight the need to support the UK's domestic steel production.
Members of the Community Union called on the government to:
Deliver competitive energy prices.
Match the ambition of competitor countries' investment in green steel production.
Introduce climate measures to protect us from 'dirty' steel imports.
Energy cost concerns
UK steelworkers' concerns about the cost of energy and decarbonisation echo those in other parts of Europe.
MEPS steel market analyst Jonathan Carruthers-Green said: "The combination of energy market volatility and a race to achieve net zero carbon emissions is placing significant pressure on steelmakers across Europe.
"Government policies will be central to how effectively the sector's businesses overcome those challenges and are able to maintain prices that remain competitive in the global market."
MEPS has previously reported on calls for financial support from the European Commission to help decarbonise the steel industry made at a recent Eurofer conference.
Last week, Antonio Gozzi, the president of the Italian steel industry body Federacciai, also expressed concerns about soaring energy costs in an interview with newspaper Il Sole 24 Ore.
He suggested the removal of energy support from the Italian government could trigger a 35 percent increase in steel mills' electricity bills. The move would take electricity tariffs from about EUR100 per megawatt-hour to EUR120/MWh, he suggested. This is estimated to be almost double the sum currently paid by German steelmakers.
In the UK, the general secretary of the Community Union, Roy Rickhuss, said: "In the absence of government backing, we face Britain's proud history of steelmaking coming to an end.
"Our steel industry cannot survive if we continue to pay far more for energy than our EU competitors and it cannot decarbonise if the government doesn't support the transition toward net zero."
Source:
The MEPS European Steel Review is an informative, concise and easy-to-use monthly publication, offering unique professional insight into European carbon steel prices.
Go to product
Request a free publication