MEPS International teams up with BSSA for CBAM webinar
MEPS International has teamed up with the British Stainless Steel Association (BSSA) to deliver clarity on the Carbon Border Adjustment Mechanism (CBAM) in a free-to-attend webinar.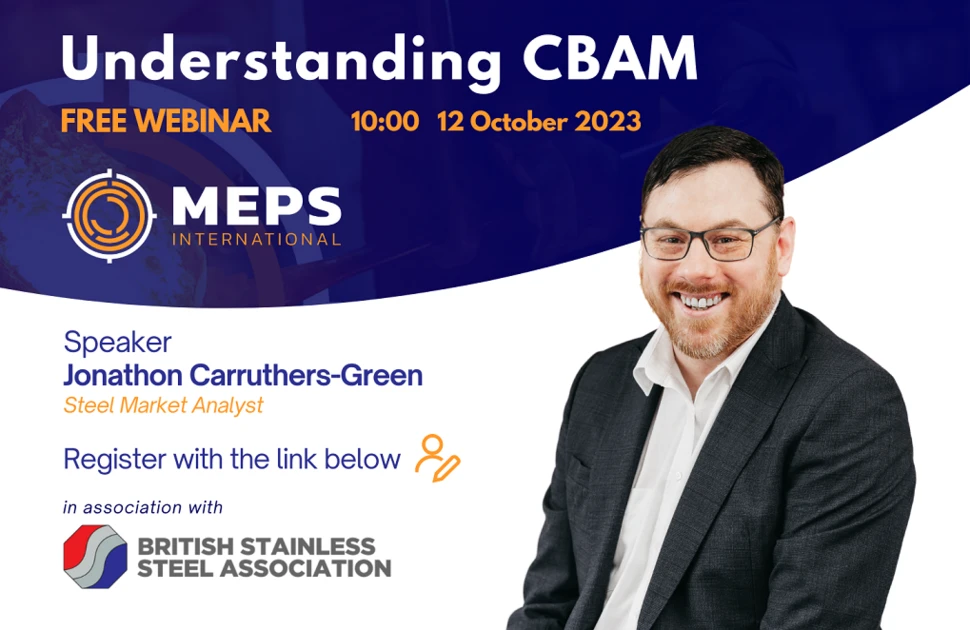 The CBAM webinar, which will take place between 10am and 11.30am on October 12, will give a thorough overview of the European Commission's incoming regulation and what businesses need to do now to ensure compliance and avoid potential fines in the future.
Companies exporting steel into the EU have to report the level of embedded CO2 emissions contained in their products under the new regulation from October 1.
MEPS steel market analyst and webinar host Jonathan Carruthers-Green said: "With the CBAM scheme about to be implemented there are new rules, new obligations, and potentially new penalties, for traders bringing steel products into the EU.
"Our aim for this presentation is to provide an overview of the CBAM scheme so that companies are provided with the knowledge they will need to navigate these changes effectively and ensure compliance with the regulations."
BSSA managing director Rob Cooper and MEPS senior analyst Kaye Ayub will join host Carruthers-Green on the October 12 CBAM webinar.
Cooper and Ayub will be part of a question-and-answer session at the end of the presentation.
Cooper said: "CBAM is a huge concern to our members, and very little is yet understood about the processes and the impact on stainless steel businesses. The webinar will be an excellent introduction to CBAM and what we need to consider to effectively trade with the EU."
Among the key topics being covered in the CBAM webinar will be:
Carbon leakage: why is a border tax necessary?
Explanation of CBAM
How emissions levels are calculated?
What do I need to report?
What are the penalties if I don't?
For full details of the list of topics, and to register for the free-to-attend CBAM webinar, visit the BSSA website.
A Q&A article addressing various aspects of the new CBAM regulations was recently published on the MEPS website.
The potential impact of CBAM's introduction was also discussed in a panel debate recently hosted by Kaye Ayub at the UK Metals Expo.
Although panellists at the expo agreed with the role CBAM can play in the decarbonisation of the steel sector, concerns exist around the additional administration and its potential to increase the cost of materials for UK manufacturing.
More information about MEPS International's range of global steel market reviews, prices, indices and forecasts can be found on its website www.mepsinternational.com.

Source:
The MEPS Stainless Steel Review is an invaluable monthly guide to international stainless steel prices and includes the latest global stainless steel industry analysis.
Go to product
Request a free publication