'Water intensive production' stalled at Ukraine steel plant
ArcelorMittal is monitoring water levels at Ukraine's Kakhovka reservoir after the breach in its collapsed dam forced the suspension of "water intensive production" at its Kryvyi Rih steel mill.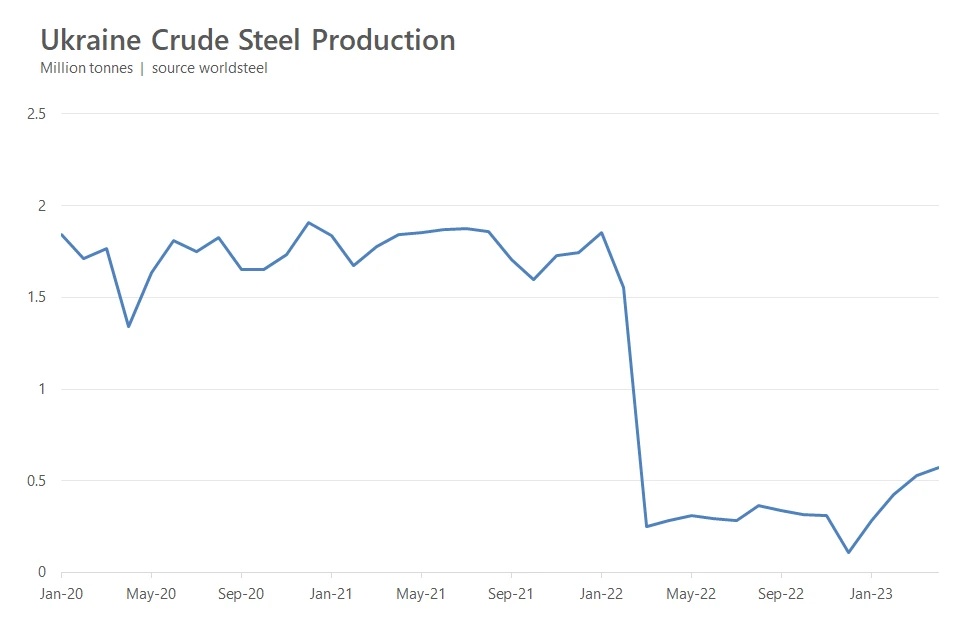 While Ukraine's agricultural sector is likely to be the main industry affected by the incident at the Russian-occupied site on Tuesday (June 6), ArcelorMittal said that it had temporarily stopped production of rolled products.
In a statement issued to MEPS, it said only blast furnace and coke production, as well as the mining and processing plant, will remain in operation.
Commenting on the impact on steel production of the Kakhovka reservoir dam breach, ArcelorMittal claimed that its supply chain was "stable", adding that customer satisfaction remained its "highest priority". It said that all booked orders would be executed to avoid inconvenience to customers.
Its statement added: "How quickly the plant will be able to return to normal mode of operation will be clear within the next three to four days, after analysing the depth of the water level drop in Kakhovka reservoir."
ArcelorMittal Kryvyi Rih is Ukraine's largest steel producer, with a nominal crude steel capacity of eight million tonnes per year and almost 20,000 employees.
The temporary impact on steel production at the operation is the latest blow for a Ukrainian steel sector which has suffered a 70.7% decline in production during 2022. According to data published by the World Steel Association, its annual volume declined from 21.4 million tonnes to 6.3m tonnes after the outbreak of war with Russia in February last year.
Correspondence handed to the World Trade Organization by the European Commission this month highlighted the proposed continuation of exemptions from its steel import safeguarding measures. Last week, the US confirmed it would maintain Ukraine's exemption from tariffs and expanded it to cover Ukrainian steel processed within the European Union.
"Ukraine's steel production volumes have been heavily affected by the conflict with Russia", said MEPS consultant Kevin Wong. "While tariffs have been removed by certain countries, uncertainty about productivity and potential lead times has curtailed interest among potential overseas buyers."
Russia has denied any involvement in the alleged blast which is said to have caused damage to the Kakhovka dam, which Ukrainian President Volodymir Zelenskiy described as an "ecological disaster".
The dam's collapse is said to have displaced an estimated 6,000 people as more than 30 settlements were flooded. The Ukrainian Agricultural Ministry said it had also left 94% of agricultural irrigation systems in Kherson, 74% in Zaporizhzhia and 30% in Dnipro regions without a source of water.
Source:
The MEPS Developing Markets Steel Review is an informative and concise monthly guide to carbon steel prices in important emerging markets around the world.
Go to product
Request a free publication