MEPS debates future of stainless steel buying trends
The future of stainless steel pricing models and the possibility of Amazon-style online buying platforms were explored in a MEPS International debate at the UK Metals Expo.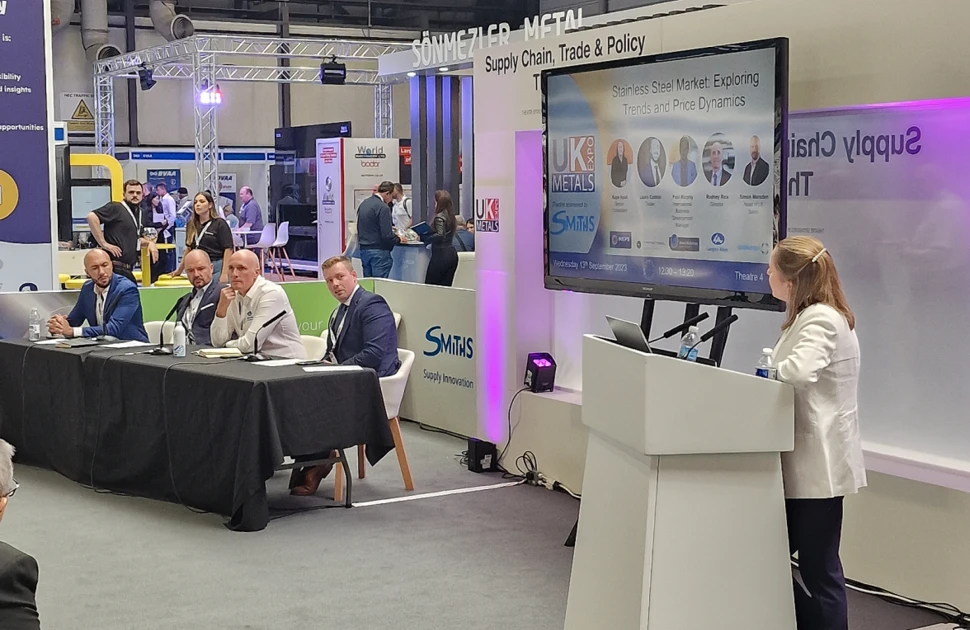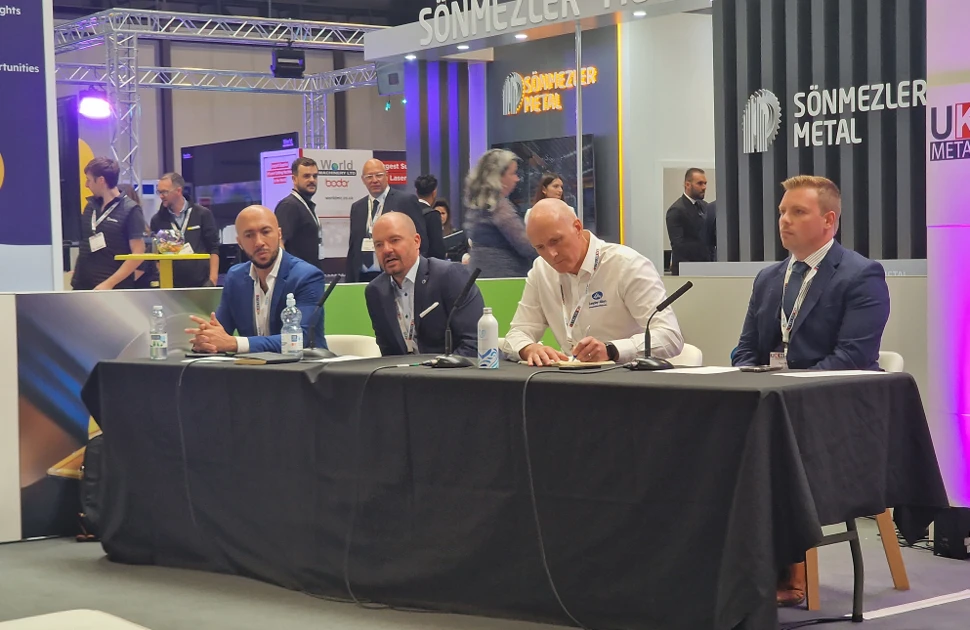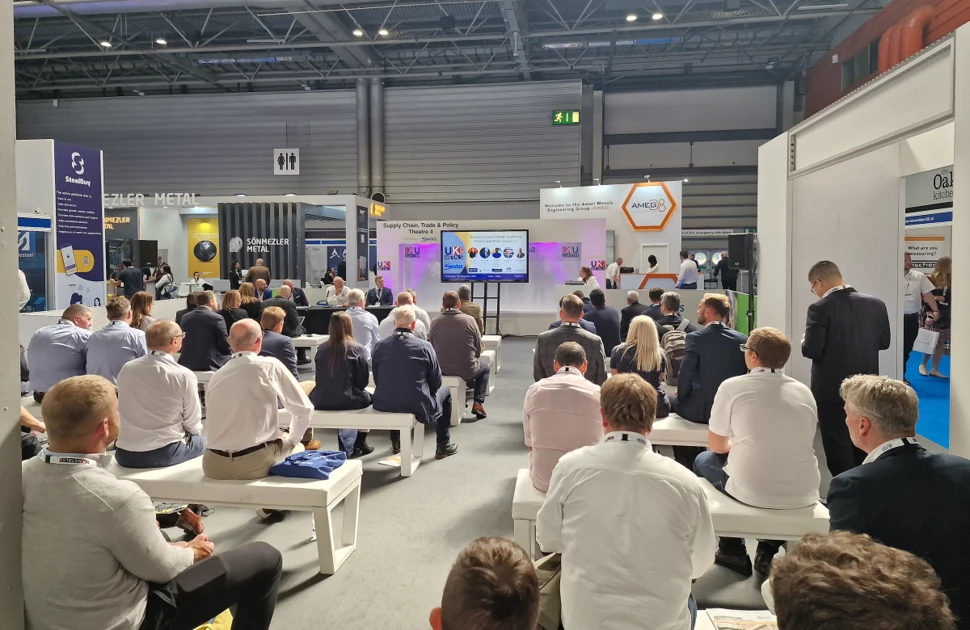 Expert panellists from across the steel sector debated the future of the base plus alloy surcharge pricing model, and the potential for streamlined digital sales, when they joined MEPS senior consultant Kaye Ayub on stage at the NEC Birmingham.
Alloy surcharges – calculated on the market price fluctuations of the raw alloying elements, including chromium, titanium, molybdenum and nickel – have come under increasing scrutiny since the LME's nickel trading meltdown in March 2022.
Monthly insight into the stainless steel prices and market trends can be accessed via MEPS International's Stanless Steel Review.
In the UK Metals Expo debate, Ayub asked the panellists in the 'Stainless Steel: Navigating Trends and Price Dynamics' whether a more widely-adopted shift to an effective pricing system was now called for.
Outokumpu UK head of sales Simon Marsden said: "The base plus AAF (alloy adjustment factor) system has been used for a long time and is still very widely used when you look at the contracts side of the business."
A place for 'base plus' pricing
While Marsden conceded that the use of effective pricing had grown, he said: "I still think there is a place for base plus AAF when it comes to contract prices and people do want that to continue."
He added: "It does affect confidence when the alloy price is going down and the effective price is going up but we have to manage that."
Lauro Castelo, a trader with Trasteel International, said: "I think it's a controversial topic talking about, the alloy surcharge.
"In May 2022, when the alloy surcharge was at its highest, it became a tough conversation."
May 2022 was a high point for the grade 304 alloy surcharge, at £3214 per tonne.
Castelo added: "We're in negative prices, so people are questioning it again.
"For the end users, it is a sustainable model. For the distributors, I have my doubts."
Langley Alloys director Rodney Rice said that his niche stainless steel was closely monitoring raw material prices and the LME in a bid to anticipate potential price movements in the market.
Rice's business caters largely for the aerospace, gas and oil sectors. He said: "Prices seem much more stable and I can't see any significant change in the area of the market we're in. It's still very much about availability and lead times."
Ayub asked the panel whether they felt a publicly traded stainless steel scrap price would aid transparency in the market and serve to maintain the base plus AAF pricing model for the longer term.
Castelo said: "I want to say yes. Visibility of the scrap price would give greater predictability."
Online steel buying
The debate panellists suggested that Amazon-style online buying platforms for steel could form a future trading solution for more commonly available stainless steel products.
Marsden said Outokumpu was actively pursuing streamlined online sales of certain material.
"We see the benefit of taking things forward in a different way, with online customer portals, different ways of pulling stock off the floor and it being available the next day," Marsden said.
"If you can help people live their lives quicker and easier with different portals and web shops why not? We see it with Amazon, so why should stainless be any different?"
Others on the panel were less confident, suggesting their businesses would require a more complex process unsuited to online sales.
Rice said the different requirements, packaging, testing and inspection requirements for materials sold by Langley Steels meant that online retail was not appropriate. "For me, and for our business, there are just too many imponderables", he said.
Brown McFarlane's Paul Murphy suggested he could see the advantage of online sales portals from a purchasing point-of-view.
However, he shared Rice's reservations about the adoption of such systems within the business he works in. Murphy said: "90% of the steel we buy in we process in some way. That makes it hard to take away that human factor. It will be difficult to develop a system that standardises that sales process and does away with the need for human interaction."
Stainless market outlook
With the exception of specialist stainless steel market participant Langley Alloys, panellists predicted a challenging three to six months ahead for the stainless steel sector.
A lack of demand defines the market and Castelo believes that a lowering of interest rates will be the market indicator which eventually signals a return to greater sales volumes.
"When that actually happens, then I think we'll see an actual uplift in demand", he said.
Marsden said that sales of flat stainless steel products had slowed as demand from white goods and catering sectors slowed. But he is hopeful of an uplift in activity in 2024.
"Recently, capital expenditure has not been as much as it normally is", he said. "I think next year some of the projects will be released and some of the new business will pick up as well."
Murphy suggested that stock management remained a key focus. He said: "At Brown McFarlane we have had two phenomenal years. We now find ourselves with stock that was bought in a higher price period for the market. The next few months are going to be a little tricky, to say the least."
MEPS International's full 'Stainless Steel Market: Navigating Trends and Price Dynamics' panel debate is now available to listen to on-demand via the UK Metals Expo website.

Source:
The MEPS Stainless Steel Review is an invaluable monthly guide to international stainless steel prices and includes the latest global stainless steel industry analysis.
Go to product
Request a free publication