Largest fall in crude steel production in over a decade
The decline in global crude steel production continues. Output fell to 149.3 million tonnes in July – 6.5% lower than in the same month in 2021.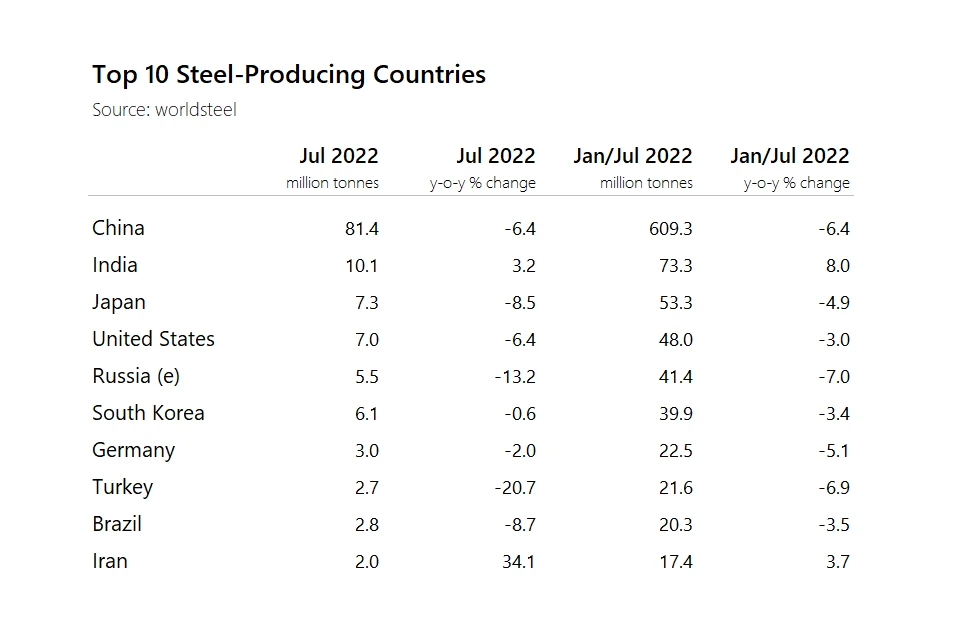 Year-to-date steelmaking totalled 1.10 billion tonnes, according to the latest figures published by the World Steel Association. This marks the largest contraction in January/July output since the financial crash of 2008/09.
European Union
In the European Union, output fell to 11.7 million tonnes in July – its lowest monthly total in 2022. Steelmakers are struggling to sell material to already overstocked buyers. At the start of July, inventory levels at service centres were up by almost 50%, compared with the figures recorded one year ago.
Crude steel production in Germany – the only country in the trading bloc to feature in the top ten largest steelmaking nations – was down 2%, year-on-year, to 2.97 million tonnes. Logistical problems have arisen due to the current drought affecting large parts of Europe. Very low water levels in the Rhine are reducing the carrying capacity of barges to around thirty percent.
Russia & Other Europe
Production in the CIS region has fallen steeply. Comparing output since the conflict in Ukraine started, with the same period in 2021, shows that production in the region has declined by more than a quarter.
Naturally, the greatest impact has been felt by Ukrainian steelmakers. July's outturn is only 15% of what it was during the same time in 2021. Exports – a key sales outlet for Ukrainian mills – have ground to a halt, due to the difficulties in shipping material out of the country.
Russian producers have also been affected. Worldsteel estimates their output at 5.5 million tonnes, in July – a year-on-year decline of more than 13%. If this trend continues, it will lose its spot as the world's fifth largest steel producer, before the year-end.
This is in part due to the ban on finished steel exports into the EU, imposed in response to its actions in Ukraine. The European Commission estimates that this will amount to €3.3 billion in lost revenue for the Russian economy.
Production in other European countries, outside the EU, has also been affected. Monthly output in Turkey has declined steadily in the period since April. Its July total of 2.7 million tonnes is down 20.7%, year-on-year.
Americas
Steelmakers in the United States produced 7 million tonnes of crude steel last month – almost half a million tonnes less than in July 2021. Data collected by the American Iron & Steel Institute shows that weekly capacity utilisation rates at US steel mills reached a 2022 low in the last week of July, at 78.4%.
Output from Brazilian steelmakers fell both month-on-month and year-on-year to 2.8 million tonnes, in July. In the first half of the year, exports of finished steel products from Brazil to Europe grew eight-fold, to almost 0.9 million tonnes, following the reorganisation of trade flows caused by the conflict in Ukraine. Exports were also supported by favourable exchange rates, soaring prices, and comparatively weak domestic demand.
Crude steel output in Argentina remains firm. Figures supplied by the steel association, Cámara Argentina de Acero, show that production totalled 462,700 tonnes, in July – only 900 tonnes less than the June figure, which was a five-year high.
China
Production in China continues to decline. In July, the nation's steelmakers produced 81.4 million tonnes of crude steel – a fall of more than 6%, year-on-year. Daily output also reached the lowest level since November 2021.
A short-term demand recovery is not expected. The already fragile sentiment in the debt-fuelled property sector has been further eroded by recent threats from homebuyers, across the country, to stop making payments on mortgages. This has forced the Chinese government to step in with a pledge to support these businesses, by providing a RMB1 trillion loan package for delayed projects.
China is pressing ahead with its plans to decarbonise. Authorities recently announced a new action plan that aims to see a peak in total carbon emissions, by the end of 2030. For the steel industry this means increasing the proportion of crude steel produced by the electric arc furnace method to 15%, by 2025, and 20%, by 2030.
Authorities in Hebei – the largest steel producing province in China – have responded by prohibiting the use of blast furnaces, with an internal volume of less than one thousand cubic metres, from the end of this year.
India
Indian steelmakers continue to depart from the trend seen elsewhere. Their output totalled 10.1 million tonnes in July – an increase of 3.2%, year-on-year.
This is despite the additional challenges facing producers since the 15% export tax was first imposed in May. Finished steel exports have subsequently collapsed. Second quarter volumes were down 49.3%, year-on-year, to 2.57 million tonnes. July figures fell 75%, year-on-year, and 41%, month-on-month, to 380,000 tonnes – a three-year low.
Meanwhile, finished steel imports increased by 8.4%, year-on-year, to about 444,000 tonnes. This is the first time that finished steel imports have exceeded exports since January 2021. This has led many market participants to suggest that the government reduce, or even remove, the tax.
The Indian government still maintains its target of increasing annual production volumes to 300 million tonnes, by 2030. To support this effort, the authorities have announced plans to ramp up domestic coking coal production, setting an ambitious target of 140 million tonnes per year – more than triple its current annual output. The government has taken measures to open new coking coal mines, while supporting the modernisation and expansion of existing facilities.
East Asia
Production in Japan, in July, was down 8.5%, year-on-year, to 7.3 million tonnes. Several of the nation's largest steelmakers, including Nippon Steel and Kobe Steel, have stated that they are expecting little demand recovery from the construction, manufacturing, and automotive sectors through the remainder of 2022, due to increased energy and raw materials costs.
South Korean production remained more stable, in comparison with that in Japan. In July, mills in the country produced 6.1 million tonnes of crude steel – a decrease of 0.6% on the year-ago figure.
Source:
The MEPS International Steel Review is an essential monthly publication, offering professional analysis and insight into carbon steel prices around the world.
Go to product
Request a free publication