Global steel production forecast at record high in 2022
MEPS has lowered its annual crude steel production forecast to 1,940 million tonnes, for 2021. Nevertheless, this figure is a new peak for global steelmaking, and represents year-on-year growth of 3.4 percent.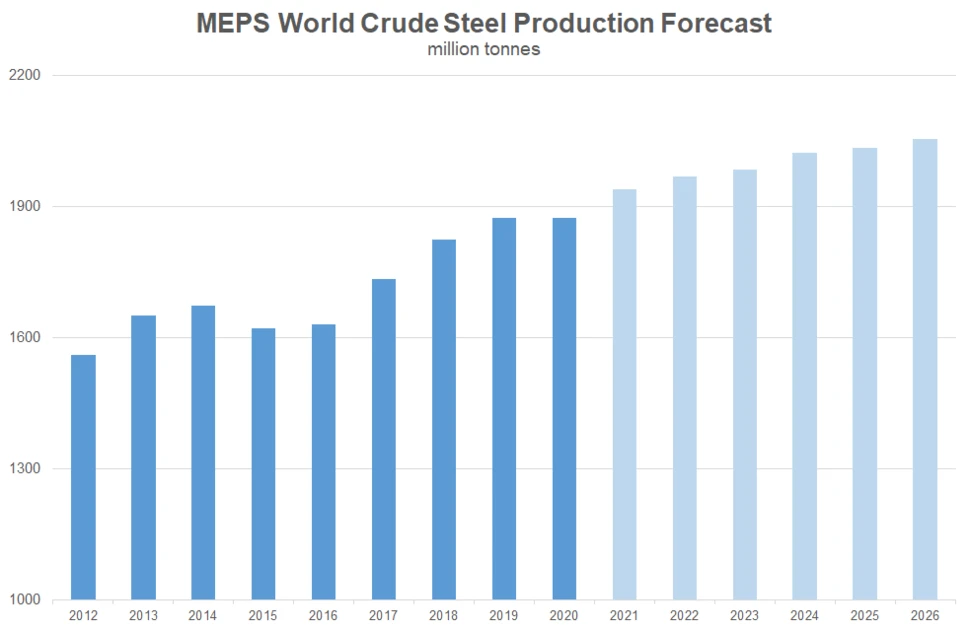 Recent reductions in Chinese melting activity are the primary reason for the downgraded figure. Calls by the government to cap annual output, at the levels recorded in 2020, were initially ignored. By the second half of the year, local officials more rigorously enforced restrictions on domestic mills.
Production in highly polluting industries, including steelmaking, is being closely monitored. Improving air quality ahead of the Beijing Winter Olympics in 2022 is a priority for the Chinese administration. Consequently, total output is expected to decrease by 3.2 percent, this year.
Market participants are keenly observing policy decisions in China, to determine its future ambitions. MEPS believes that, in the next five years, production levels will grow in the country, but at a much lower rate than in recent years. The Chinese share of total Asian production is expected to fall, albeit slightly.
Crude steel projections for North America are rangebound. A figure of 120 million tonnes of liquid steel is forecast for 2026. Production in the United States represents more than 70 percent of this total. Substantial government investment in infrastructure projects is planned for the next ten years. However, regional economic growth is expected to slow following the initial post-pandemic recovery.
In the European Union, annual production is predicted to increase by more than 15 percent, to 153 million tonnes, in 2021. Output should grow, in the coming years, but the figure is unlikely to return to the recent peak recorded in 2017. Germany and Italy will consolidate their positions as the primary producers in the region. Existing plants are expected to decarbonise their operations. Furthermore, newly installed capacity is likely to focus on low emission "green" steel. However, these should only come onstream from 2026 onwards.
Indian production will continue to soar over the next five years, due to large investment in steelmaking capacity. New plants are expected to use a mix of basic oxygen and electric arc furnace technology. Planned modernisation of towns and cities in the country will drive rising steel consumption. A continued widening of the gap between Indian and Japanese annual production is envisaged.
In Japan, restructuring in the domestic steel industry should lead to muted output growth, in the medium term. Uncompetitive blast furnace facilities are being closed. This should prevent the total outturn of crude steel climbing above 100 million tonnes over the next five years. A similar trend of consolidation is predicted to occur in South Korea and Taiwan. There is little scope for these mature markets to increase crude output, as steel consumption is already at a high level.
In percentage terms, the largest regional production growth is expected to transpire in the Middle East. By 2026, an additional 14 million tonnes of steel is forecast to be melted, annually, over the 2020 figure. Iran will be the main driver of rising output, due to significant investment in new electric arc furnace plants.
South American steel manufacturing should reach 45.9 million tonnes this year – the highest figure since 2012. An upward trend is envisaged in the period to 2026. Brazil will remain the primary producer in the region.
In Africa, following a double-digit percentage increase in 2021, production growth is predicted to slow in subsequent years. Administrative obstacles and political difficulties are likely to restrict new capacity investment, in the medium term.