Construction's faltering fortunes stall steel sales 
Forecasts suggest the trend of reduced residential construction activity in major global economies is set to continue – contributing to a downturn in steel demand that is affecting prices.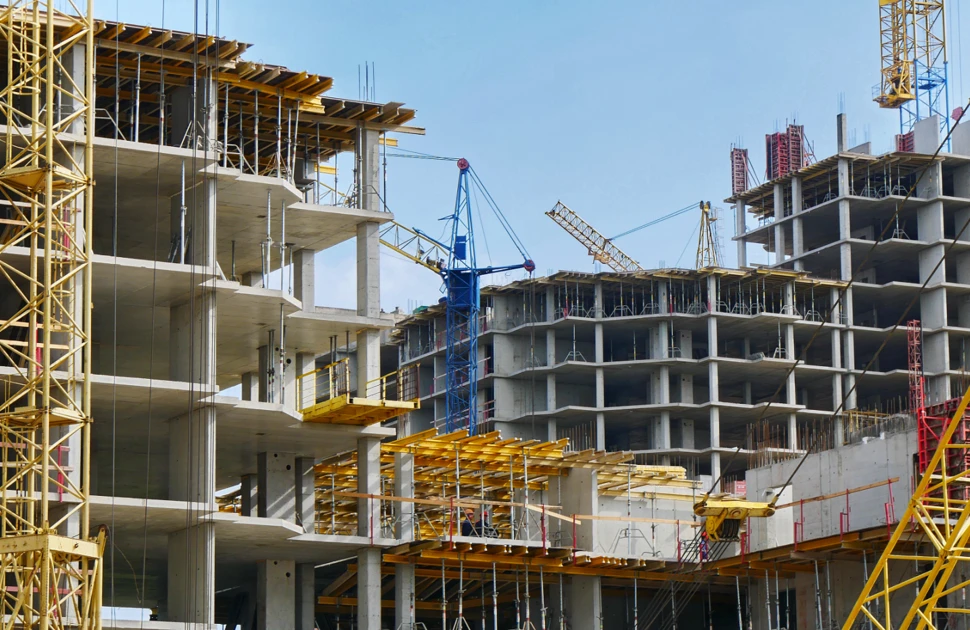 High inflation and rising interest rates are creating a subdued outlook for residential construction in Europe, the US and China, for which industrial and infrastructure projects are unable to compensate.
MEPS International steel market analyst Jonathan Carruthers-Green said: "We expect residential construction to remain in the doldrums while there is still the potential for a recession later in the year. The challenge taken up by many countries now is to reduce industrial emissions, so larger infrastructure projects still remain viable."
MEPS International's steel market reviews report that project-based developments – particularly in the renewable energy and infrastructure sectors – are the primary source of demand in a stagnant EU construction sector.
Despite a 2.2 percent increase in investment in civil engineering projects, the European Construction Industry Federation (FIEC) now expects a 2.5 percent overall decline in investment in construction during 2023. This would be only the second decline since 2014.
According to data published by the FIEC this month, Portugal (up 3.4 percent) and Ireland (up 2.5 percent) are the only EU countries expected to see construction investment increase in 2023.
A recent survey conducted by Germany's association Hauptverband der Deutschen Bauindustrie found that 57 percent of residential developers expect a further decline in the second half of this year. That comes despite a year-on-year decrease of 29.8 percent in order intake in April, as the sector suffered a 13th consecutive month of decline.
Housing crisis
UK construction is also showing signs of slowing. Business confidence fell for the third month in a row as the sector's PMI fell from 51.6 in May to 48.9 in June. Housing activity declined by the most since May 2020.
The UK government's Secretary of State for Levelling Up, Housing and Communities, Michael Gove has said that he wants 30,000 new social homes built per year to address a housing crisis. However, analysis from the i newspaper showed that the top 10 housebuilders listed on the London Stock Exchange were stalling on developments, despite owning 700,000 available plots.
The FEIC cited the rising cost of energy and some materials as a key contributor to the decline in construction activity across Europe.
MEPS steel price data shows that rebar has been in decline since Russia's invasion of Ukraine prompted a significant spike in prices and is now down by 48 percent on its April 2022 peak.
Mesh quality wire rod followed the same trend and is now 52 percent cheaper, while values for steel beams show a decline of 46 percent.
Prices remain substantially higher than in the pre-Covid era, however.
China's recovery hopes
China's construction sector remains stuck in its worst downturn on record.
Figures published by the National Bureau of Statistics of China (NBS) this week showed that investment in real estate development had dropped by 7.9 percent during the first half of the year.
"The floor space of commercial buildings sold reached 595.15 million square meters, down by 5.3 percent, and the total sales of commercial buildings were 6,309.2 billion yuan, up by 1.1 percent," NBS said.
China's gross domestic product expanded by 6.3 percent year-on-year in quarter two, with growth slowing to just 0.8 percent compared with quarter one.
During the first half of this year steel prices in China remained well above pre-Covid trading. However, rebar prices have declined by 10.5 percent to CNY3,170/tonne and wire rod by 9.9 percent to CNY3,360/tonne. Steel beams have declined by a lesser amount, losing 7.8 percent of their value to end June at CNY3,320/tonne.
Carruthers-Green said: "Despite the actions taken by provincial and national authorities to support real estate, the reduced demand in the construction sector has already fed through to the steel market.
"Both domestic and export prices for structural sections fell throughout the second quarter, with only the reduction in raw materials costs helping to maintain mill margins.
"With the rainy season now in full swing steelmakers will be pinning their hopes on a recovery in market conditions in September."
Economists suggest China is now in urgent need of new stimulus measures.
State stimulus
In the US, construction has felt the benefit of a supportive policy environment for manufacturing construction.
The Infrastructure Investment and Jobs Act (IIJA), Inflation Reduction Act (IRA) and CHIPS Act – boosting investment in semiconductor microchips – have provided direct funding and tax incentives for public and private manufacturing construction.
In quarter one of this year, investment in manufacturing construction was almost double the 2005 to 2022 average at US$166 billion. This was driven by computer, electronics, and electrical manufacturing. In this area spending nearly quadrupled.
Despite an assertion from the United States Department of the Treasury that "the manufacturing surge has not crowded out other types of construction spending", data from the United States Census Bureau revealed that the number of privately owned housing units authorised by building permits in June was 3.7 percent down month-on-month and 15.3 percent down year-on-year.
The number of privately owned homes which began construction in June was down eight percent month-on-month and 8.1 percent year-on-year.
Without state support for house building projects, it seems, limited growth can be expected from major economies' construction sectors in the near term.
Source:
The MEPS International Steel Review is an essential monthly publication, offering professional analysis and insight into carbon steel prices around the world.
Go to product
Request a free publication