Chinese steelmakers arrest slide in global steel output
The latest figures from Worldsteel show that the drop in global crude steel output seen throughout 2022 reversed in September. Steelmakers produced a total of 151.7 million tonnes, during that month – an increase of 3.7% compared with the previous September. This is the first year-on-year growth recorded since August 2021.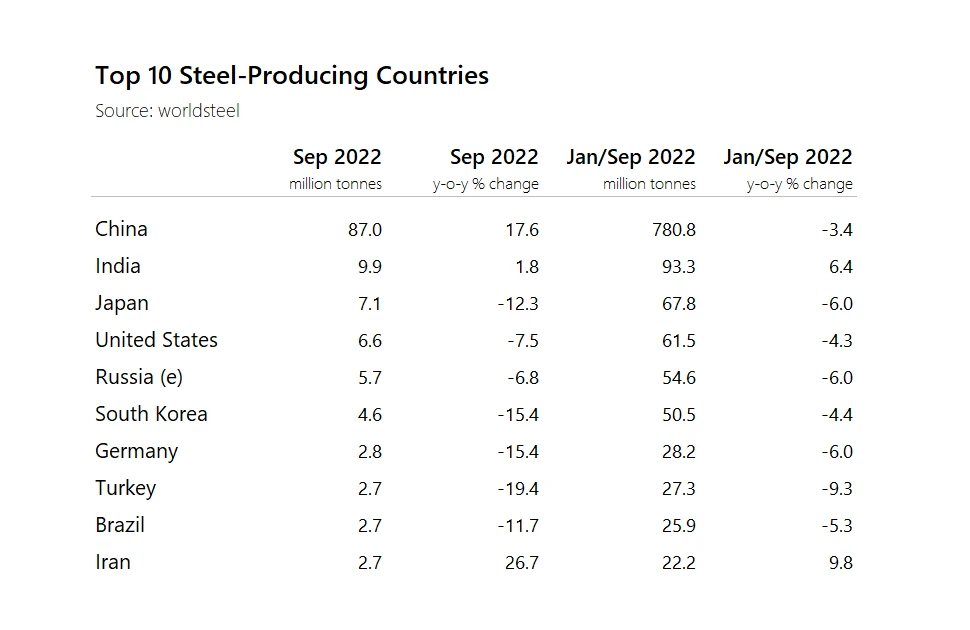 China
The global upturn was due to a modest recovery in China, which saw 87 million tonnes of steel being poured, in September. This represents an 18% year-on-year increase in output. However, the percentage increase was due to a low baseline, twelve months ago, rather than any significant growth this September.
In the second half of 2021, Chinese mills were facing pressure from central authorities to reduce output to comply with energy consumption targets, leading to several months of low volumes. When comparing the September 2022 figure with that of the previous month, the increase is a more moderate 3.7%.
The Chinese steel industry faces severe challenges in the coming months. Figures from the National Bureau of Statistics indicate that only one in five steelmakers currently expect to make a profit in the second half of the year.
Furthermore, the Chinese real estate market is in turmoil, following Evergrande's announcement that it was unable to maintain repayments on the US$300 billion of debt it holds on its books. Subsequently, three in ten Chinese property companies are claimed to be nearing bankruptcy. The domestic automotive industry, while showing signs of improvement in recent months, has yet to fully recover from the supply squeeze caused by the Covid lockdowns.
Despite the stimulus packages announced earlier in the year, the Chinese economy is slowing. With nearly 95% of the material produced in China sold to local buyers, problems experienced in the wider economy will be felt acutely by its steelmakers.
European Union
Demand for steel products was weak in many other regions, particularly in Europe, after the panic buying seen there earlier in the year, following the outbreak of war in Ukraine.
Steelmakers in Europe opted to reduce supply in an attempt to support prices, as rising energy costs were reducing their profit margins. German crude steel production fell to 2.84 million tonnes in September – a year-on-year decrease of 15.4%. Italian output also declined, by 18.7%, to 1.87 million tonnes.
Production in the remainder of the European Union also fell by a comparable amount. Overall output from the bloc was 16.7% lower than this time last year, at 10.7 million tonnes.
Despite lobbying from energy-intensive industries, European authorities have yet to agree to a bailout package, leaving room for national governments to take the lead in this area. Accompanying this is the acceleration of various hydrogen and DRI projects, in the region, as steelmakers look to decarbonise the industry.
Get Europe Carbon Steel Prices
Other Europe
European steelmakers, outside the EU, fared marginally worse. Their combined September output of 3.4 million tonnes – with Turkey alone accounting for nearly 80% of this total – was 18.6% lower than in the previous year.
The United Kingdom is on track to produce less than 7 million tonnes in 2022. This would mark its lowest annual output since World War II. The rise in energy prices means that the cost to make a tonne of steel has doubled in the past 24 months, and despite government intervention to cap the increases, energy costs are set to rise further.
Ukraine & Russia
Assessments from the Ukrainian national steel association indicate that producers in the country are currently operating at an average capacity utilisation rate close to 15% of the pre-war levels. Their September crude steel output totalled 360,000 tonnes. The country is also suffering severe logistical problems due to its loss of control over its seaports, through which most of its exports were transported. In the eight months through August, steel production in Ukraine fell to 5.2 million tonnes, while in 2021 it was almost 13 million tonnes, during the corresponding period.
Despite the imposition of sanctions on Russia by many Western nations, its fall in crude steel output has been less severe than initially forecast. Government aid for domestic construction projects, as well as a realignment of exports towards Asian markets, has lifted demand on local mills. Worldsteel estimates Russia's output at 5.7 million tonnes – less than 7% lower than at the same time in 2021.
Asia
Indian producers continue to increase output, supplying 9.9 million tonnes of crude steel in September. Their year-to-date total rises to 93.3 million tonnes – a 6.4% increase compared with the 2021 figure.
Output at Japanese steelmakers contracted, in September, to 7.1 million tonnes. Latest production forecasts by the country's Ministry of Economy, Trade & Industry, for the fourth quarter of 2022, show that output is expected to fall by 6.8%, year-on-year, to 22.6 million tonnes. Exports for the period are predicted to decline by 10.8% to 6.2 million tonnes.
South Korea maintains its position as the world's sixth largest steel-producing nation, despite its year-on-year output falling by 15.4%, in September, to 4.6 million tonnes. Typhoon Hinnamnor, made landfall early in the month. It caused severe damage to Posco's 1.8 million tonnes annual capacity Pohang steelworks.
Americas
Crude steel melting in the United States followed the same downward trend seen in most other large steel-producing countries, in September. Its output fell by 7.5%, year-on-year, to 6.6 million tonnes. Preliminary trade data, from the American Iron & Steel Institute, shows that the inflow of foreign material reduced by 4.4%, to 2 million tonnes, compared with the same month last year. Imports, therefore, comprise 23.4% of the total US market share. Products sourced from its three largest steel trading partners – Canada, Mexico and Brazil – account for more than half of this total.
Argentinian steelmakers produced 429,000 tonnes of crude steel, in September. This five-month low was due to scheduled plant maintenance outages. Brazil's monthly output also fell, by 11.7% year-on-year, to 2.7 million tonnes.
Source:
The MEPS International Steel Review is an essential monthly publication, offering professional analysis and insight into carbon steel prices around the world.
Go to product
Request a free publication