Driving evolution: Chinese exports and EVs shift automotive's steel demands
Chinese car manufacturers' appetite for growth in electric vehicles (EV) and a drive towards net carbon-neutral car production are set to reshape the automotive sector's demand for steel during 2023 and beyond.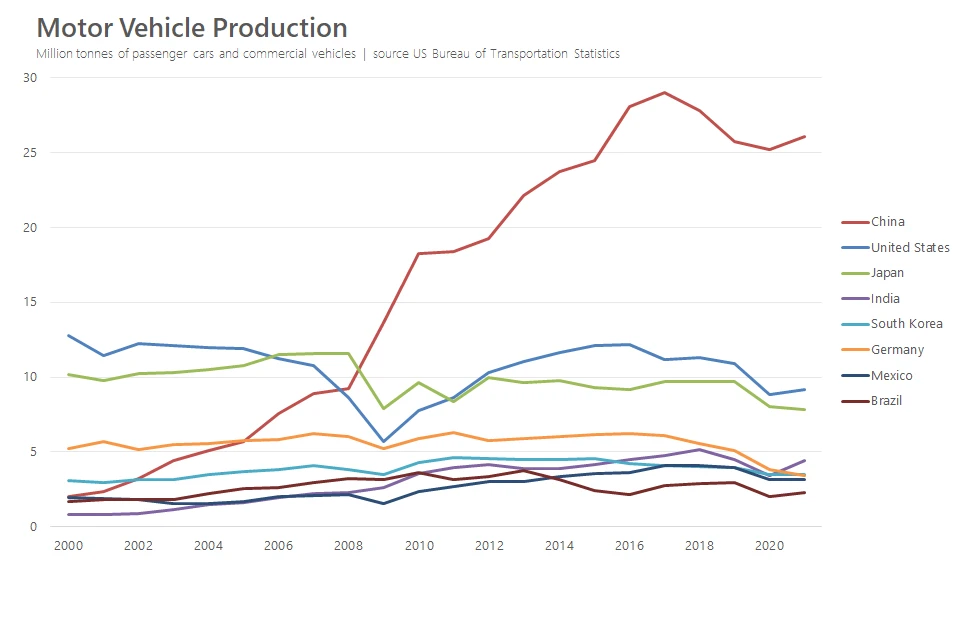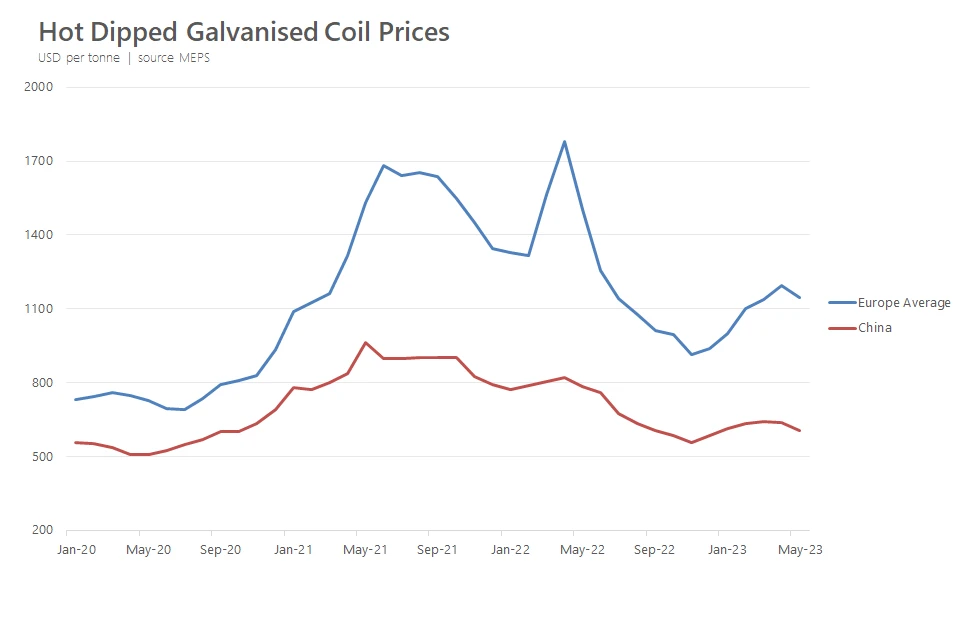 China's largest EV manufacturer, BYD, is among the brands launching product ranges in Europe during 2023. Great Wall Motors' Ora brand, Geely Automotive's Lynk & Co, Chery's Omoda and NIO are also among the market's new entrants.
The United States Inflation Reduction Act has left Europe a target of Chinese exports.
China became the world's largest car exporter in Q1, shipping 1.07m vehicles. In the first four months of 2023, China's automotive sector exported 1.37m vehicles, with a 170% year-on-year increase in units shipped (376,000) in April alone.
Allianz Trade's recent 'The Chinese Challenge to the European Automotive Industry' report said EV imports could cost the European Union over EUR24bn in economic output in 2030. That is 0.15 per cent of the bloc's gross domestic product.
In automotive-dependent economies including Germany, Slovakia and Czech Republic the decline could be between 0.3 and 0.4 per cent of GDP, it added.
Steel orders from European carmakers could be affected as the focus remains on high-value, high-margin EVs rather than volume – a formula that has served them well during the post-Covid era.
Most would struggle to compete on price with the new Chinese entrants. The focus remains on clearing the backlog of orders resulting from component shortages against a backdrop of growing investment in zero-emission vehicles, high energy prices and rising labour costs.
MEPS senior consultant Kaye Ayub said:
The automotive sector is a big consumer of steel in Europe and any reduction in car manufacturing will invariably hurt the steel producers. The gradual removal of carbon credits the mills receive once the Carbon Border Adjustment Mechanism (CBAM) is introduced, in 2026, will add to EU manufacturing costs.
Steel buying caution
Growth is forecast for key automotive markets during 2023.
The German Association of the Automotive Industry (VDA) said that it expects global volumes to rise by 4% to 74.9 million cars.
Sales in the United States are forecast to grow by 4% to 14.3m new vehicles with China up 3% to 23.9m following a strong performance in 2022. European volumes (including the UK) are forecast to rise by 7% to 12m.
MEPS sources suggested that, although automotive's growth maintains it as a stable source of business, EU manufacturers have recently approached steel buying with caution. MEPS analysts cite this as one of the reasons behind their forecast of a fall in steel coil prices in the coming months.
Purchasing negotiations were expected to commence in person at Milan's Made in Steel conference in mid-May.
Automotive steel buyers' caution is in contrast to the approach adopted in 2021. Then, the sector increased its stocks of automotive-grade steel in anticipation of a post-Covid manufacturing recovery that never materialised.
MEPS researchers' analysis of ISSB EU import data for cold rolled coil (CRC) and automotive-grade hot dipped galvanised coil (HDG) showed that volumes rose from 6.83 million tonnes in 2019 to 9.3m as prices rose to historic highs. The bulk of that rise, from 4.29m to 6.3m tonnes, was seen in metallic-coated sheets.
In June 2021, Europe average HDG effective prices had more than doubled year-on-year to USD1,684 per tonne and between USD1,650 to USD1,690 in the car-producing Germany, France and Italy.
Prices remained close to USD1,350 per tonne at the end of December. January and February brought a decline before prices reached new heights of over USD1,750 per tonne in April 2022.
In China, prices reached their peak in May 2021, with HDG reaching USD964 per tonne.
Now, as Chinese EV manufacturers bid to take on their EU rivals, they find themselves with a growing price advantage in the steel sector.
MEPS' most recent data showed that HDG prices had increased between November last year and April in the EU's key automotive markets. They rose to almost USD1,200 per tonne for the first time since last summer before declining to USD1,145 in May.
China's decline in HDG prices has accelerated in recent months, falling from USD637 in April to USD604 in May.
Steel's sustainable traits
The steel sector is paying close attention to issues of weight, strength and sustainability which accompany carmakers' move to the production of zero-emission cars.
A lithium-ion battery and its associated protective structure can add around 700kg to a vehicle's weight, prompting the exploration of new lightweight materials.
Tesla's most affordable EV, the Model 3, is formed from both steel and aluminium. The more expensive Model S has an aluminium body.
The Chevrolet Bolt is composed of 86 per cent steel, including 44 per cent advanced high-strength steel.
Research from ArcelorMittal makes a case for the future of steel as a core element in production, citing strength and cost as key factors.
"Reducing the weight of an EV by 100kg only improves range by around six to 11km depending on the size of the vehicle," explained Jean-Luc Thirion, general manager of global R&D and chief executive of ArcelorMittal Maizieres Research.
"The same range increase can be obtained by increasing battery capacity by 1.1 to 1.2 kilowatt hours (kWh)."
Increasing battery capacity by one kWh typically costs around €100, ArcelorMittal said.
Its research suggested that advances in solid state battery technology would ultimately yield the most significant weight savings. Steel structures would be retained in order to preserve EVs' structural strength and safety traits, it said.
"With less emphasis on lightweighting due to battery technology improvements, alternative materials to steel become much less interesting for automakers," said Thirion.
Green cars, green steel
Carmakers' shift to EVs will be accompanied by increased demands for green steel, however, with a sharp focus on supply chains.
Stellantis (the OEM behind brands including Alfa Romeo, Citroen, Fiat, Peugeot and Opel/Vauxhall) is aiming to halve its operations' 2021 CO2 emissions by 2030 and achieve carbon net zero by 2038, while Ford and the Volkswagen Group want to achieve the same target by 2050.
EV brand Polestar, which is Europe-based but owned by China's Geely Automotive, has bold plans to eliminate all greenhouse gas emissions from every aspect of production of its 0 Project.
Among its partners in the project are Boliden, Ovako, Pensana, Sekab and SSAB.
Spelling out the scale of the challenge, the head of the Polestar 0 project Hans Pehrson said: "There are things that can be fixed, and there are things that cannot. Not without a complete overhaul, in any case. The issue of decarbonisation is one of the latter.
"Now is the time to move away from our dependency on fossil sources towards solutions without greenhouse gas emissions."
Source:
The MEPS International Steel Review is an essential monthly publication, offering professional analysis and insight into carbon steel prices around the world.
Go to product
Request a free publication