CBAM webinar now available to view 'on demand' 
Businesses which export steel products to the EU now have 'on demand' access to a free webinar outlining the rules and repercussions of the European Commission's Carbon Border Adjustment Mechanism (CBAM).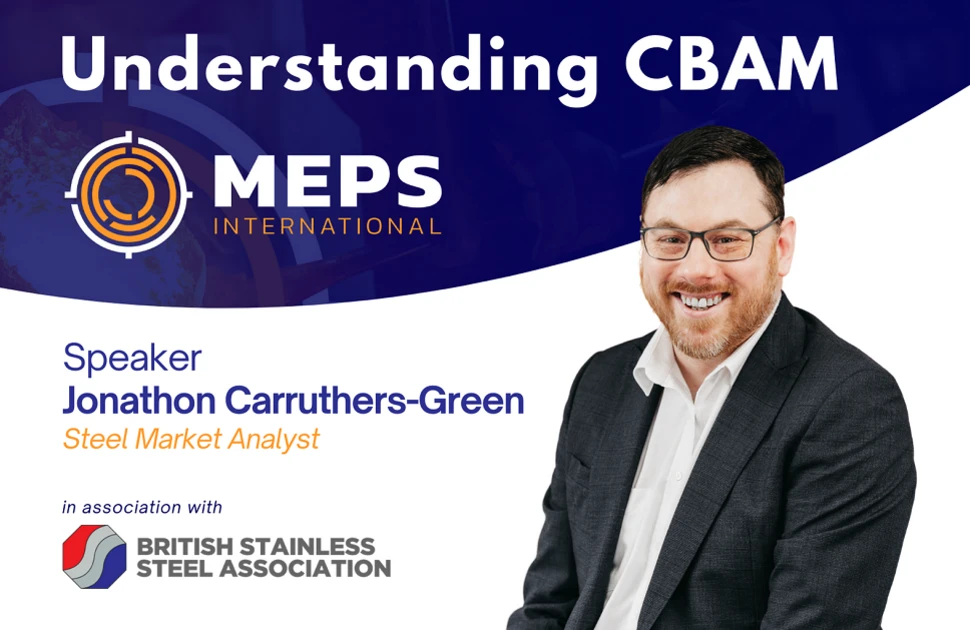 MEPS International partnered with the British Stainless Steel Association (BSSA) to clarify the rules and potential repercussions of the new regulations. 
From October 1, newly-launched CBAM regulations require the embedded CO2 emissions in goods destined for the EU to be accounted for and reported, but many businesses remained uncertain about their route to compliance.  
MEPS steel market analyst and webinar host Jonathon Carruthers-Green, who led the resulting CBAM webinar, said: "At MEPS, we became aware of a lot of uncertainty about the phased introduction of CBAM and wanted to address that. 
"There was a great response to the webinar, with lots of people signing up and watching on the day, but it's great to be able to share it as a resource for a wider audience." 
The Understanding CBAM webinar, first presented last Thursday (October 12), is now available to watch via Youtube. 
Viewers are able to view specific sections of the presentation, which covers the following key CBAM-related topics: 
Carbon leakage: why is a border tax necessary? 

Explanation of CBAM. 

How emissions levels are calculated. 

What do I need to report? 

What are the penalties if I don't? 
The webinar presented by MEPS's Carruthers-Green compliments an earlier CBAM Q&A article published on the Sheffield-based steel price and insights provider. 
BSSA managing director Rob Cooper and MEPS senior analyst Kaye Ayub joined host Carruthers-Green for a question-and-answer session at the end of the October 12 presentation. 
Speaking ahead of the webinar, Cooper told MEPS: "CBAM is a huge concern to our members, and very little is yet understood about the processes and the impact on stainless steel businesses.  
"The webinar will be an excellent introduction to CBAM and what we need to consider to effectively trade with the EU." 

Source:
The MEPS European Steel Review is an informative, concise and easy-to-use monthly publication, offering unique professional insight into European carbon steel prices.
Go to product
Request a free publication